När Gathering Of Kings släppte sin debutplatta var det rena käftsmällen.
Plattan är smått osannolikt bra – och inte ens ett halvår senare är det dags för dem att släppa en ny singel: Heaven on the run.
5/5
Artist:
GATHERING OF KINGS
Album:
HEAVEN ON THE RUN (SINGEL)
År:
2019
Genre:
ROCK
Skivbolag:
RN RECORDS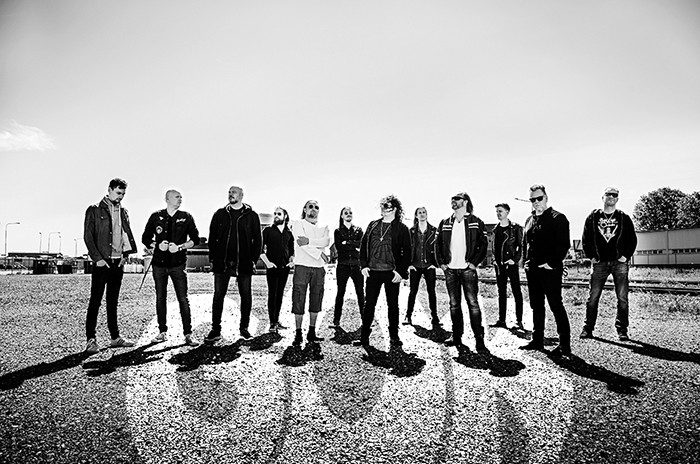 Supergruppen Gathering Of Kings, där line-uperna varierar i de olika låtarna, fanns med på Sweden Rock Festival i förra veckan. Med sig dit hade de sin senaste singel Heaven on the run.
Precis som många av låtarna på debutplattan så är Heaven on the run skriven av Victor Olsson och line-upen ser denna gång ut så här: Rick Altzi (sång), Victor Olsson (gitarr, keyboard), Nalle Påhlsson (bas), Efraim Larsson (trummor) och Tobias Jansson (bakgrundssång).
Man kan väl säga att det här är en fortsättning på First mission. Det är givetvis fortfarande melodiös hårdrock/AOR med ett sjuhelsikes gung. Det är också sköna gitarriff, lika sköna keyboardslingor och inte minst så är det en refräng som gör att man inte kan sitta still.
När det dessutom är Rick Altzi (Masterplan, Herman Frank, At Vance) som står för sången så är halva segern redan bärgad innan låten kickar i gång … det här är helt enkelt klass och Gathering Of Kings har återigen gjort en fem plus-låt.
Låten är hämtad från det kommande albumet Discovery som är planerat att släppas tidigt under 2020.