Gathering Of Kings debutplatta var smått magisk.
Nu är de tillbaka med uppföljaren – och visst låter Discovery lika jäkla bra!
5/5
Artist:
GATHERING OF KINGS
Albumtitel:
DISCOVERY
År:
2020
Genre:
ROCK, HÅRDROCK, AOR
Skivbolag:
RN RECORDS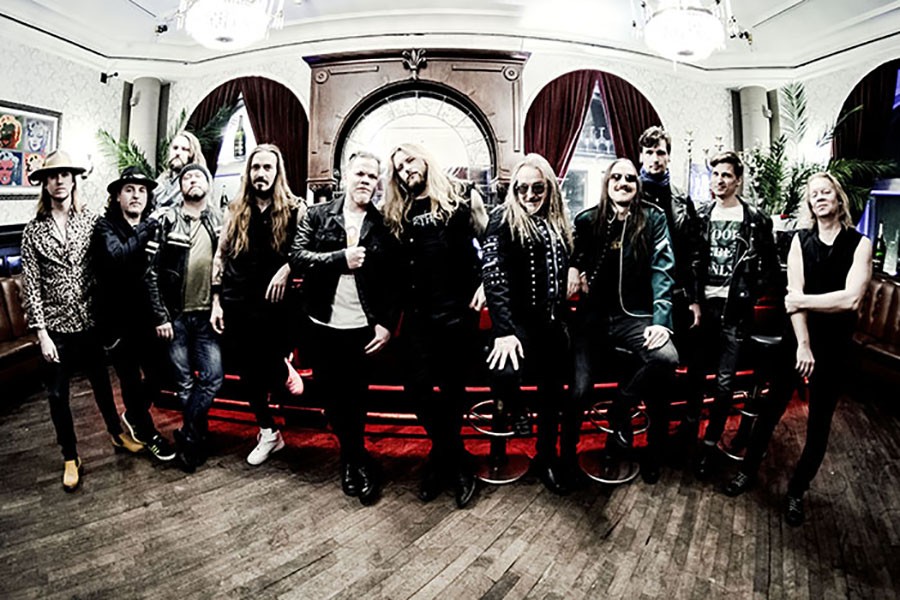 Det svenska melodiösa hårdrock/AOR-projektet Gathering Of Kings för samman musiker från alla håll och kanter – och där line-uperna varierar i de olika låtarna och projektet – skulle kanske kunna jämföra med Tom Galleys Phenomena eller Tobias Sammets Avantasia. Nu har de dock blivit ett band.
Den gemensamma nämnaren för Gathering Of Kings är Ron Dahlgren och Nina Dahlgren som skapade projektet och är exekutiva producenter tillsammans med Viktor Olsson.
Det är också Olsson som i huvudsak är låtskrivare och som har Alexander Frisborg till sin hjälp där. Producent är Thomas "Plec" Johansson.
Nog om det!
Nu om låtarna på albumet!
För det är återigen en sylvass melodisk hårdrock/AOR-platta som kommer från detta gäng.
Starsleeper
Riders of the light
Heaven on the run
December
Highway to paradise
The one that got away
Lorelei
Moonlight
Revelation
Kiss from above
From a whisper to a scream
Final hour
Sedan tidigare har vi fått en del singlar från Discovery. Vi har fått Heaven on the run. På den låten är det Rick Altzi som har hand om sången – och det är otroligt melodiöst och då blir det en av de bästa låtarna på albumet. Det är verkligen en grym låt för den som gillar när det blir så melodiöst att man inte kan sitta still.
Den melodiösa hårdrock/AOR-pärlan följdes upp av Moonlight med GOK-debutanten Jonny Lindkvist bakom mikrofonen. Det är fortfarande melodiöst som fasiken och det är som vanligt en smittsamt bra refräng. Det är också lika sköna gitarriff som keyboardsslingor. Det är en väldigt bra låt – precis som väntat.
Singel nummer tre är som bjuder på ett gung som om det vore hämtat från en annan planet … Det är så soft och så skönt att man inte kan sluta lyssna. Melodin … när refrängen går i gång så brister man mest ut i ett stort brett flin! Det är så catchigt att man måste bita sig någonstans för att man inte ska ryckas med i detta. Det är smått overkligt bra! Det är plattans bästa spår! Sångaren på Kiss from above är Alexander Frisborg (Helldog) som även var med på låten Long way from home på Gathering Of Kings debutalbum First mission.
Sedan var det dags för singeln From a whisper to a scream där det är Tobias Jansson som tar hand om sången. Fast Jansson (Saffire, ex-Evil Masquerade) är inte något nytt ansikte i Gatherings Of Kings. Han fanns redan med på den nästan osannolikt vassa debutplattan First mission.
Här börjar det med lite snygga keyboardslingor och då har Gathering Of Kings genast fångat uppmärksamheten. Sedan kommer det trummor, gitarrer, bas … ja, ni vet allting som hör till melodiös hårdrock/AOR. Det är catchigt, men ändå ett lite småtungt sound. Sedan brister allting ut i en maffig refräng.
Fast det där var låtar som man hade koll på inför släppet av Discovery. Nu vill man ju höra det nya!
Albumet inleds med Starkeeper, men det är bara ett drygt en minut långt intro … den där mystiska ljudbilden bygger dock upp förväntningar på att det ska komma något vasst direkt efter – och det gör det. Det är trummor och synthslingor, det är gitarrer och det är Apollo Papathanasio på sång. Japp. Det är en bra låt!
Här finns fler höjdare, eller … det är bara kanonlåtar på Discovery! En som sticker ut lite extra är December. Det är bra fart, men det är när låten brister ut i en refräng som man sitter med ett flin i ansiktet. Här är det Jonny Lindkvist som briljerar på sång.
Även powerballaden The one that got away fastnar snabbt. Vilket gitarrlir! En låt till måste nämnas lite extra. Det är Lorelei. Precis som på The one that got away så är det Tobias Jansson som tar hand om sången på denna pärla.
Men det kommer mer … du vill verkligen inte missa en enda låt på denna platta!
Här är alla musiker på plattan:
Rick Altzi, sång (3,12), bakgrundssång (3,9,11,12).
Jonny Lindkvist, sång (4,8).
Apollo Papathanasio, sång (2,9), bakgrundssång (2,5,8,9).
Tobias Jansson, sång (6,7,11), bakgrundssång (2,3,6,7,11).
Alexander Frisborg, sång (5,10), bakgrundssång (2,3,5,6,8,10,11,12).
Victor Olsson, gitarr (2-12), bas (2,4-7,9-12), keyboards (1-12), bakgrundssång (2-12).
Efraim Larsson, trummor (2-8).
Jonas Källsbäck, trummor (9-12).
Special appearances:
Nalle Påhlsson, bas (3,8).
Joel Selsfors, keyboard solo (12).
Erik Gafvelin Wiss, keyboard solo (7).
Henrik Sethsson, backing vocals (10).
Theresia Svensson, bakgrundssång (6,7,10).
Ron Dahlgren, bakgrundssång (10).
Mathias Kihlberg, flöjt (9).
Discovery släpps den 15 maj.