The Killers är ute på turné.
I lördags stannade de till i Stockholm och Ericsson Globe.
Då bjöd de på en hitkavalkad utan dess like …
Över 10 000 åskådare hade tagit sig till Globen denna vinterkväll (den 24 februari 2018). Och för den som har sett Las Vegas-bandet tidigare så kunde man förutspå vad som väntade. The Killers är ett band som tänker lika mycket på musiken som på showen.
Brandon Flowers & company ställer sig inte bara rakt upp och ned på scenen och skickar ut sina låtar. Här får man mycket mer än så. Det är glitter och en ljusshow som är alldeles underbar att få uppleva.
När band ger sig ut på turné med en ny platta i ryggen – The Killers släppte Wondeful wonderful den 22 september förra året – brukar de välja att köra lite extra många nya låtar live. Fast The Killers är inte riktigt som andra band. De kör i det närmaste en Greatest hits-runda – och då är succén given.
Det är också en ett band som vet hur de ska få med sig publiken från första stund. De fyra första låtarna i Globen var Run for cover, Somebody told me, Spaceman och The way it was. En låt från den senaste plattan och tre klassiker – och då var publiken på topphumör från början. Inledningen var helt enkelt magisk.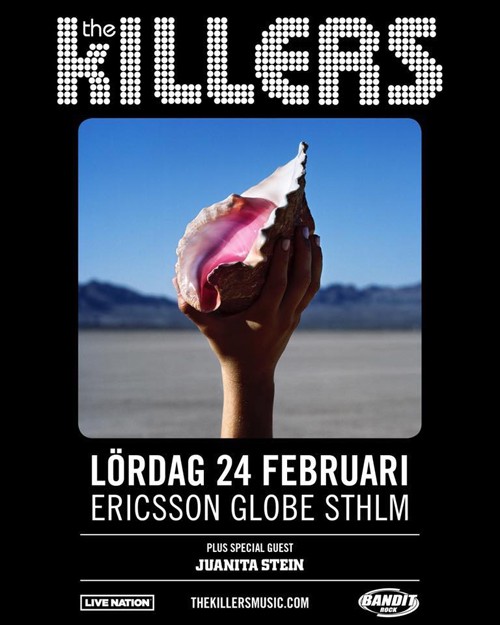 The Killers underhöll i nästan två timmar och då hade man fått se Flowers studsa runt på scen mest hela tiden. Han klättrade på högtalarna och han sprang fram och tillbaka på scen. Det var energi från första till sista stund. Det var ungefär samma energi som Coldplay och Chris Martin bjuder på när de spelar live.
Flowers är utan tvekan en äkta entertainer. Sedan skadar det ju inte att The Killers har en fantastisk katalog att välja sina låtar ifrån. Några av de självklara valen var Human, Spaceman och inte minst min absoluta The Killers-favorit Read my mind.
Man blev också imponerad och glad över att de körde Dire Straits-covern Romeo and Juliet som finns med på Sawdust-plattan. Det var kul att äntligen får höra den live. Det är lite kul att de kör lite covers live, att de bjuder på något lite annorlunda. När man såg dem för några år sedan bjöd de på Aplhavilles Forever young.
The Killers körde fyra extranummer och den avslutningen bestod av The calling, Losing touch, When you were young och Mr. Brightside. Losing touch var makalöst bra och den fastnade på näthinnan resten av lördagsnatten …
Det gjorde även Mr. Brightside. The Killers skickade ut allt vad de hade i ljusväg för att bjuda på en mäktig avslutning – och det blev det.
Setlist:
Run for cover
Somebody told me
Spaceman
The way it was
Shot at the night
Jenny was a friend of mine
Miss Atomic bomb
Human
Rut
Smile like you mean it
For reasons unknown
The man
A Dustland fairytale
Romeo and Juliet
Runaways
Read my mind
All these things that I've done
The calling
Losing touch
When tou were young
Mr. Brightside