Livemusik är äntligen tillbaka.
Och när evelyne och Viktor Olsson intog scenen insåg man hur mycket man har saknat det – för de bjöd på en härlig helkväll i Blomstermåla folkets hus.
4/5
Artist:
EVELYNE, VIKTOR OLSSON
Konsert:
LIVE I BLOMSTERMÅLA FOLKETS HUS
År:
2021
Genre:
INDIE, ROCK, POP

evelyne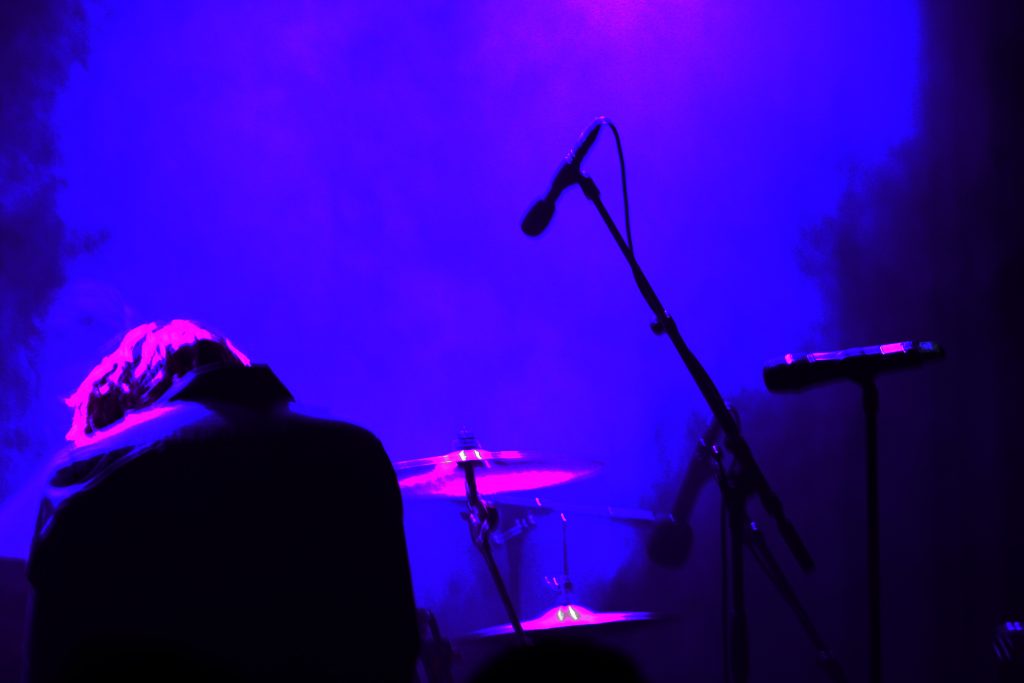 Den första livekonserten på jag vet inte hur länge. Då blev det en tur till Blomstermåla folkets hus den 9 oktober 2021 där såväl Viktor Olsson som evelyne var på bästa spelhumör – när de gjorde konserten som egentligen var inplanerad att ske för 1,5 år sedan.
Det var Mönsterås-bandet evelyne, som mer eller mindre spelade på hemmaplan, som avslutade kvällen och som de gjorde det! Det var ett sjuhelsikes drag på "Sveriges nästa stora arenaband". Orden var Viktor Olssons och det bara måste bli så – för evelyne är verkligen något alldeles extra och de har en frontman och sångare i Alfred Ekwall som redan har stjärnglans runt sig och det riktigt lyser om honom på scen. Den energin han hade på scen smittade också av sig.
Med sig på scen hade han dessutom bröderna William Ekwall (trummor) och Jonah Ekwall (bas) samt Jacob Gustafsson (gitarr) och Fredrik Jonsson (gitarr).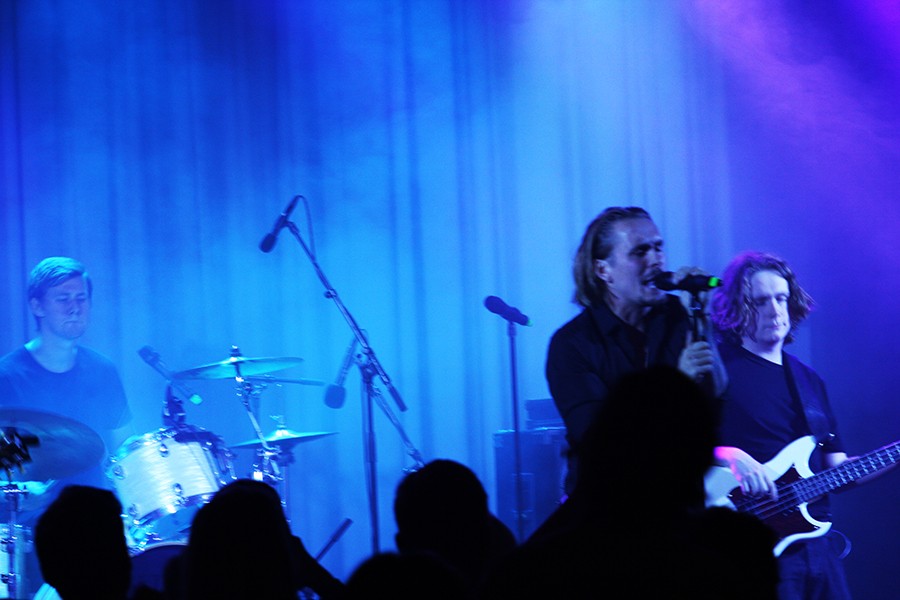 Tidigare har evelyne låtit en del Kent, men de tvättade bort en del av det på debutplattan och live så tvättas det bort än mer och evelyne blir klart hårdare. Det blir tyngre. Det blir mer rock. Det blir mer fart – och det passar dem alldeles utmärkt även om de låter alldeles fantastiskt bra på albumet också.
De hann med att leverera 13 låtar innan dörrarna till folkets hus slogs igen för denna gång – och starten med den fantastiska låten Genombrott skakade liv i varenda människa på stället. De fyllde sedan på med Väntar alltid för länge och den starten känner man igen från albumet Mer än någonsin …
Sedan var det dags för en ny låt: Berör mig. Och här rockade evelyne loss ordentligt. Det där är förmodligen med mest rockiga låt som evelyne någonsin har gjort.
Spelningens absolut höjdpunkt var dock Vakna. Låten, som handlar om Ekwall-brödernas farfar skrevs när han gick bort, och de gör den med en jäkla känsla. Dessutom kryddades allting när pappa Magnus Ekwall (The Quill) gjorde sina söner sällskap på scenen. Magi!
Och sedan skickade de ut ännu en osläppt låt: Ögonen – och det här gänget övertygade i låt efter låt. De har onekligen något spännande på gång med de här nya låtarna också för visst är Stor större du även den osläppt? Det var i alla fall bra tryck i liveversionen som evelyne skickade ut …
Pansarglas, Dom vi är, Följ mina steg och Blind är andra fantastiska låtar som bandet hann med att skicka ut denna kväll. evelyne tackade sedan för sig med sin största låt: Jag vill vara (du eller aldrig) som har passerat 100 000 spelningar på Spotify.
Det var verkligen en kanonspelning. Inte ens när det blev lite gitarrstrul kunde det förstöra något. Det är ju live och shit happens – och det är ju det som är charmen med det … Live är äntligen tillbaka!
Topp tre? Vakna, Blind och Dom vi är.
Setlist evelyne:
Genombrott
Väntar alltid för länge
Berör mig
Född för att dö
Vakna
Ögonen
Pansarglas
Dom vi är
Mid tids parad
Följ mina steg
Stor större du
Blind
Jag vill vara (du eller aldrig)
---
Viktor Olsson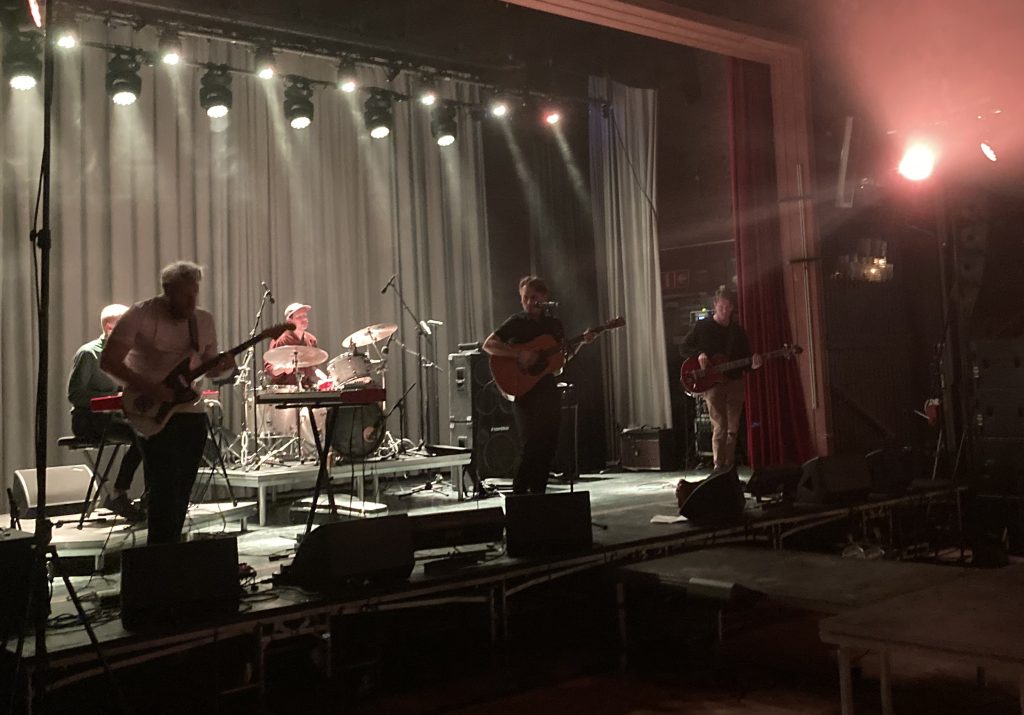 Men innan evelyne klev upp på scenen var det Viktor Olsson, som bjuder på soulig poprock, som hade bjudit på sina låtar.
Han inledde själv på scenen. Det var Olsson – som bland annat har släppt albumen Stenungsund (2015), Viktor Olsson (2018) och Allt jag ville säga (2020) – och en akustisk gitarr som startade kvällen med hans senaste singel Ensam när du går. Redan där visade Olsson att han är född till att vara en artist. Allting känns så naturligt och äkta.
Sedan klev hans polare från Bohuslän upp på scenen och det blev en fullbandsspelning – och det blev genast ett bra tryck när de gjorde den finfina Stora ängen som dessutom tillhör Olsson bästa låtar och som helt klart var en av höjdpunkterna denna kväll.
Olsson valde att köra ganska många låtar från albumet Allt jag ville säga (2020) och det var kul – för det är en riktigt fin platta. Nämnda Stora ängen är från den plattan precis som Du/jag som Olsson tillägnade vännen Fredrik Kling som är den som bokar artister till Blomstermåla folkets hus.
Även Kanske imorgon är från Olssons senaste platta och med den låten vann Olsson publiken som började gunga med ordentligt. Saknat dig nog, Elin, Evergreen (vilken härlig liveversion!) och Allt jag ville säga är från det senaste albumet – och samtliga var höjdpunkter denna kväll.
Elin måste lyftas fram lite extra. Det är en personlig favorit och den absolut bästa låt som Olsson, som ligger inne med en fantastisk sångröst och som är en skicklig låtmakare, har gjort. Bara att ha fått höra den live – där Olsson låter den gå över och bli till Princes Purple rain – gör att den höstmörka tiden som vi är inne i nu blir lite ljusare.
Topp tre? Elin, Evergreen och Stora ängen.
Setlist Viktor Olsson:
Ensam när du går
Stora ängen
Långa skuggor
Alla pratar om forever
Mil av ljus
Du/jag
Kanske imorgon
Saknat dig nog
Elin
Baksidan av båten
Evergreen
Marlon Brando
Du lever livet
Fjärilar vid floden
---
Sedan måste det nämnas lite om Blomstermåla folkets hus. Det låter kanske inte så kul med "folkets hus", men stället – där det är Fredrik Kling som bokar in artisterna – har en fin historia bakom sig och stället är både intimt och fint. Det är ganska litet, även om det finns en övervåning med balkonger, och hela stället rymmer 1 600 åskådare. Publikrekordet, om det är en skröna eller inte är oklart, ligger på 3 000 åskådare under en spelning med Magnus Uggla.
– Polisen fick öppna upp nödutgångarna, berättar Fredrik Kling.
Huset är intakt sedan 1963 och det byggdes som en storsatsning i ett litet samhälle och Blomstermåla folkets hus hamnade på den svenska musikkartan – och hela stället andas historia.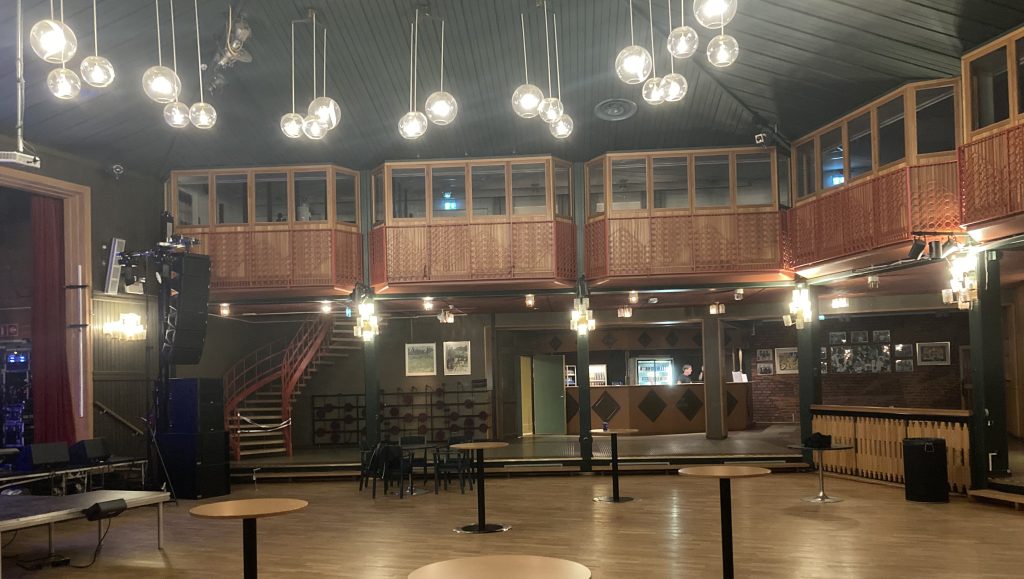 Bland de artister/band som har spelat i den lilla orten i Småland finns ABBA, Europe, Tomas Ledin, Orup, Magnus Uggla, Ulf Lundell, Gyllene Tider, Noice, Eldkvarn, Ratata, Lustans Lakejer, Imperiet, Treat, Jakob Hellman, Jerry Williams, Reeperbahn, Freda' och Trance Dance – och deras bilder hänger på väggarna … äh, typ alla gamla band och artister har spelat på "Folkan".
I mer modern tid har John Lindberg Trio, Hardcore Superstar (som är tillbaka den 20 november), Hästpojken, Toni Holgersson, The Quill, Crazy Lixx, Bullet, Dynazty med flera tagit plats på scenen.
– Vi har tre band på våren och tre på hösten. Det är vad vi klarar av, säger Kling.
Det enda tråkiga denna kväll var publikmängden. evelyne och Viktor Olsson förtjänar så mycket mer än ett par hundra åskådare. Det är band och artister som kommer att vara och räkna med inom svensk musik i framtiden. Det bara måste vara så – och de är värda så mycket mer redan nu.
Visst är det en upplevelse att få se stora band på de stora scenerna, men att få chansen att se "up and coming"-band på mindre scener och med intima spelningar har sin charm – och det är oftast de som man minns bäst 20 år senare.
---