Det nyöppnade stället Slaktkyrkan i Stockholm hade celebert svensk besök fredagen den 23 februari. Ett av Sveriges bästa punkrockband rev ned stället bit för bit …
Det var The Baboon Show som levererade ett jäkla fett ös från första ackordet på No Afterglow till sista klangen på Heidi Heidi ho ho.
The Baboon Show  är ute på turné för att promota sin nya och suveräna skiva Radio Rebelde, som fick betyget 5/5 på Rockfarbror, kommer till Stockholm och ger en makalöst bra konsert.
Bandet låter som en eldsprutande kpist som bara laddar om och fortsätter spruta ut magiska punkskott över den entusiastiska publiken som består av folk i alla åldrar och det är punks och annat löst folk.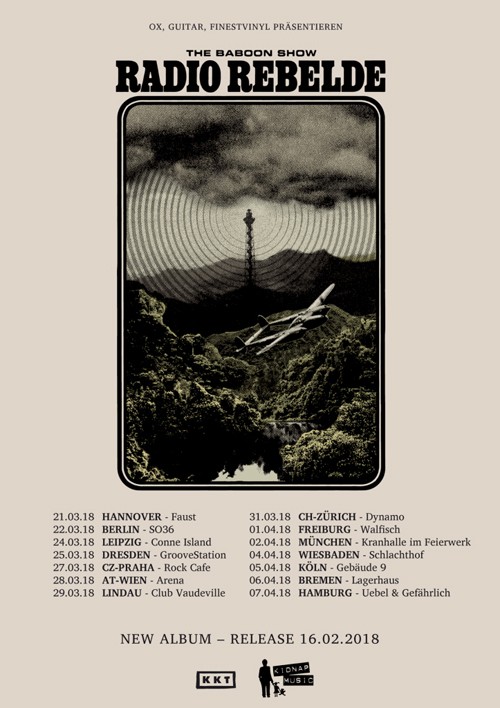 The Baboon Show är supertajta i varenda vers och refräng. Håkan Sörles gitarrackord, Frida Ståhls basgångar, Niclas Svenssons trumbankande och Cecilia Boströms sång och mellansnack får varenda hårstrå på kroppen att resa sig.
Detta är bland det bästa som har setts i punksvängen på länge enligt undertecknad …
Boström ber om att bli stage dived/buren på publikens händer och armar genom den mäktiga Dig on. Håkans Sörle briljerar med sin mäktiga sång i Again.
Konserten är helt enkelt ett magiskt framförande av hela bandet och fram till Same old story får man uppleva det mesta som en bra konsert ska innehålla – och då återstår halva konserten …
Slaktkyrkan var ett välbesökt ställe denna kväll och en del medlemmar från Asta Kask och Tony Johansson från KSM3 var uppe och hjälpte till med några ackord.
Denna konsert får 5 av 5 … det finns bara två ord som kan sammanfatta spelningen: Pure magic!
The Baboon Show
Cecilia Boström (sång)
Frida Ståhl (bas)
Håkan Sörle (gitarr)
Niclas Svensson (trummor)
Setlist:
No afterglow
You get what you get
Radio Rebelde
All of me
Queen of the dagger
The shame
Me myself and I
Tonight
Holiday
Same old story
You got a problem
Dig on
Hit the floor
Working all night and day
Faster
Again
Hurra
Punk rock harbour
Heidi Heidi ho ho