Ny platta.
Ny turné.
Med en liten skillnad: The Baboon Show har aldrig låtit bättre än vad de gör nu.
– Vi har fortsatt på samma spår som på den förra skivan, men nu drar vi lite mer åt olika håll. Vi har breddat oss en del, säger trummisen Niclas Svensson.
Det är hektiskt för medlemmarna – Cecilia Boström (sång), Frida Ståhl (bas), Håkan Sörle (gitarr) och Niclas Svensson (trummor) – i The Baboon Show nu.
En ny platta ligger färdig och ska snart presenteras för världen av gänget som har hållit ihop sedan starten för 15 år sedan. Undantaget är basisten. Där har The Baboon Show skiftat två gånger, men sedan fyra-fem år tillbaka i tiden är det Frida Ståhl som finns där.
– Det känns som om det kommer att vara vi nu.
Svensson, Sörle och Boström har alltså varit med sedan starten och de två förstnämnda har spelat tillsammans i olika konstellationer sedan 1993.
– Vi kände att det inte hände någonting med bandet vi hade innan The Baboon Show. Vi ville tillbaka till punkrocken, säger Svensson om hur tankarna gick inför bildandet av bandet.
"Är inte det här bra? Det är ju det!"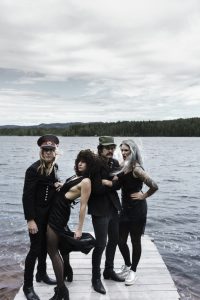 Då lirade Svensson och Sörle själva och spelade in några demos.
– Vi lyssnade på dem och tänkte: "Är inte det här bra? Det är ju det!"
De frågade Boström om hon ville provsjunga eftersom de hade hört henne tidigare. Det ville hon och det bara satt direkt. The Baboon Show bildades och alla bandmedlemmar bidrar till låtarna.
– Håkan skriver det mesta, men alla skriver. Håkan, eller någon annan, presenterar en låtidé. Är det något att ha? Får vi en feeling för den så gör vi klart den tillsammans, säger Svensson som också berättar att The Baboon Show är ett band som knappt repar.
– Det är när det är något nytt. Annars turnerar vi så mycket.
Och det har de gjort sedan starten. Då, i början, drog de Sverige runt och spelade så fort de fick chansen.
– Vi sa att live var vår grej. Vi tog allt och spelade överallt i Sverige under två-tre år.
Förr var man livrädd för att använda trummaskin eller någon form av programmering. Det är man inte längre.
Det var snabb, skuttig punk och AC/DC-riff. Det är där någonstans de fortfarande är – även om The Baboon Show har utvecklat sitt sound.
– Förr var man livrädd för att använda trummaskin eller någon form av programmering. Det är man inte längre.
Nu är det okej att testa lite nya saker på en del låtar.
– Det är kul med nya ideér.
Och på den nya plattan Radio Rebelde är det inte bara bandmedlemmarna som bidrar med sina idéer.
– Pelle Gunnerfeldt som producerade skivan hade en del idéer också.
Musiken kanske inte är fullt så snabbt som den har varit samtidigt har det blivit tyngre, mer melankoliskt och mer melodiskt. The Baboon Show har gått lite åt rockhållet, men självklart så har de inte glömt bort punkrötterna.
– När vi spelar live blir det lite snabbare. Då blandar vi upp det.
Det finns tusentals inspirationskällor. Det är bara att titta på samhället.
I texterna känner man också igen The Baboon Show. Det är både allvar och humor.
– Det finns tusentals inspirationskällor. Det är bara att titta på samhället.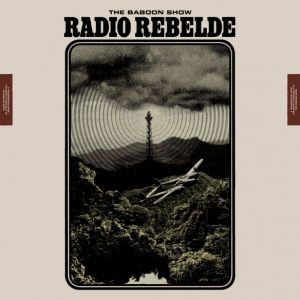 Albumtiteln Radio Rebelde kommer från den kubanska radiokanalen, som startades av Che Guevara, med samma namn. Revolutionären och gerillaledaren använde radion för att sprida 26 juli-rörelsens mål under Fidel Castros ledning. Och The Baboon Show har en speciell koppling till Kuba.
– Vi har spelat där fyra gånger. Det är ett intressant land. Jag känner att vi har många kopplingar dit. Jag känner mycket med det kubanska folket, de är mycket lyckligare än vad vi är i väst.
– Radio Rebelde är lite historia, men det är också en tidlös titel.
Har du någon låt som du känner lite extra för på plattan?
– Just nu är det absolut titelspåret Radio Rebelde. Vi fick till den riktigt, riktigt bra. Jag har hört den tusen gånger, men kan ändå komma på mig själv med att nynna på den. Jag tror att den kommer att gå bra.
En annan har också fastnat för All of me. Berätta om den!
– Jag älskar Def Leppard-körerna i refrängen, stämmorna och allt gör att det osar 80-tal. Den är inte lugn, men den går i det lugnare tempot. Den var också kul att göra. Det är också en av favoriterna på skivan.
Sedan finns även Hurray som låter väldigt mycket AC/DC …
– Säger du det, säger Svensson och skrattar.
– Det är den första låten från den nya skivan som vi har spelat live. Det har vi gjort i flera månader.
Och att det blir mycket AC/DC finns det en förklaring till.
– Det är Håkans absoluta favoritband genom alla tider. Han borde heta Young i efternamn!
Och Boströms röst fungerar hur bra som helst till det.
– Hon har aldrig sjungit så bra!
Musik går alltid i vågor. Bra musik är bra musik.
Vad lyssnar du på för någon musik själv just nu?
– På väg till jobbet lyssnade jag på Tormented. Det är death metal från Finspång. Jag är en underground-räv som har en väldigt bred musiksmak. Just nu är jag inne på old school-death metal. Musik går alltid i vågor. Bra musik är bra musik.
Hur fungerar det med låtordningen på album. Är det något man bara sätter ihop eller är det svårt?
– Vi funderade på det i flera månader. Det är otroligt svårt att komma på.
Det kan vara om låtar påminner varandra i form eller hur tonarten är. Allting påverkar i vilken ordning låtarna ska komma.
– Men det brukar lösa sig. Vi rådfrågar de vi jobbar med.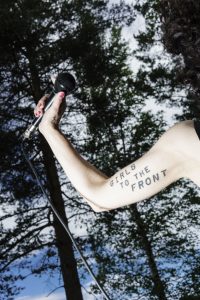 Nu börjar det dra ihop sig till albumsläpp och sedan blir det en del spelningar. Samma helg som plattan släpps (på fredag) gör Cecilia Boström och Håkan Sörle två akustiska gig i Tyskland innan hela bandet samlas och gör två gig i Stockholm och Göteborg.
– Sedan blir det turnerade i mars. Då blir det Spanien, Tyskland, Tjeckien, Österrike och Schweiz. Sedan börjar festivalsäsongen i april.
Fast att det är hektiskt är de vana vid i The Baboon Show. 2016 släppte de skivan The world is bigger than you och samlingsplattan Best of 2.0. Sedan var det en turné på det …
– Vi var inte så involverade i samlingsplattan, bara i låtval, bilder och omslag. Vi behövde inte jobba så mycket med det. Då var det desto mer med The world is bigger than you och turnén. Det blev mycket, men det går om man planerar.
Efter varje albumsläpp så blir det en omstart.
Är det alltid roligt?
– Det tycker jag. Efter varje albumsläpp så blir det en omstart.
– Man kommer till nya ställen och det är alltid kul. Sedan älskar vi att vara i bussen. Det är den trygga punkten, säger Svensson och skrattar.
Nämn tre låtar ur er låtkatalog som du känner lite extra för!
You got a problem without knowing it. Det är vår största låt. Den är alltid rolig att spela live.
Radio Rebelde. Den blev fulländad på något sätt. Den har verkligen något extra.
This is how your story ends. Jag är väldigt nöjd med den i alla fall. Vi kör den inte så mycket live, men det är min text och jag är väldigt nöjd med den. Jag skrev den till en chef en gång i tiden … låten bara flyter på.
Trots ett helt gäng med bra plattor är så är The Baboon Show något av ett doldisband i Sverige. De är större utomlands än här hemma.
– I Sverige är det inbitna musikintresserade som känner till oss. I Tyskland ses vi som nästa stora grej och vi säljer ut överallt där. Vi började kämpa för det för flera år sedan så vi har kämpat oss upp.
I Tyskland spelar det liksom ingen roll var The Baboon Show spelar. Det kan vara i en liten by med 2 500 invånare. Spelningen utsåld i alla fall och då spelar det inte heller någon roll om det är på en tisdagskväll.
Denna gång tyckte vi att det var värt det. Det var värt att testa det.
Nu hoppas de att det ska börja röra på sig i Sverige också.
– Vi hoppas det. Nu får vi lite hjälp med att promota skivan. Denna gång tycker vi att det är värt det. Det är värt att testa det, säger Svensson.
I ryggen har de Radio Rebelde som utan tvekan är en lysande platta. Den släpps på fredag.
Fem saker du inte visste om Niclas Svensson
1) Vad hade du gjort om du inte hade sysslat med musik?
– Jag vet inte riktigt … antagligen hade jag hållit på med någon slags konstform i alla fall, så att jag kunde uttrycka mig för att få ur mig det jag behöver få ut.
– Jag hade gärna spelat i Luleå Hockey!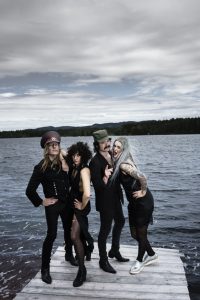 2) Vilken är den senaste filmen du såg?
– Den nya Star Wars-filmen. Den var skitbra, men annars ser jag mycket serier, framför allt de som har med zombies att göra.
3) Om du fick var en annan person för en dag. Vem hade du varit?
– Fidel Castro.
4) Vilken är din favoritefterrätt?
– Glass och choklad i alla former.
5) Vilken ringsignal har du?
– Iphones vanliga, men den är alltid på ljudlöst …
The Baboon Show på Spotify: