När Henning Ejnefjäll förlorade sin älskade far gav han sig in i musikens värld och gjorde låtar.
Nu har Armadillo King släppt albumet Forever with me där Ejnefjäll hedrar sin saknade far.
Henning Ejnefjälls musikresa startade i Arnö utanför Nyköping under slutet av 1980-talet då några kompisar ville starta ett band. Då skulle det vara hårdrock, men Ejnefjäll övergav hårdrocksriffen för den akustiska gitarren och låtskrivande.
– Det var på den tiden som man fick skivkontrakt. Det var det man satsade på, att få någon från ett skivbolag att lyssna på det man gjorde, säger han.
Ejnefjäll tog dock vägen via USA, dit han flyttade för att plugga ljudteknik, för att landa sitt kontrakt. När han kom hem till Sverige hörde en producent honom. Det ledde till att Ejnefjäll fick ett skivkontrakt med Amigo musik. Ejnefjäll gjorde några inspelningar innan han hamnade på EMI 1994 och två år senare släppte han sin debutplatta Äntligen 22.
Sedan dess har det runnit mycket vatten under broarna och Ejnefjäll har bland annat pluggat till ingenjör på KTH och även om han jättegärna hade haft möjligheten att sko sig på musiken så ser han en fördel med att ha en annan inkomstkälla i dag.
– Jag kan göra det jag verkligen vill göra med min musik.
Musiken har han alltid haft med sig – och när vi spolar fram bandet till maj 2023 har låtskrivaren och sångaren precis släppt sin andra fullängdare med Armadillo King.
Och sedan några år tillbaka har han, i alla fall tillfälligt, lämnat det svenska språket – då släpper han sin musik som Henning – för det engelska.
– Jag har hoppat fram och tillbaka och har tidigare haft mest fokus på svenska. I dag har jag ett band och just nu är det engelska som gäller. Språket och musiken samspelar och jag känner att det är det här jag vill göra nu.
När Ejnefjäll hoppar in i Henning-skorna ska det gärna låta på ett visst sätt.
– Man ramar ibland in sig själv. Det kan bli trångt när man skriver på svenska. Jag känner mig lite friare när jag skriver på engelska.
Ejnefjäll beskriver det som en målning.
– Jag tror att jag ger mig själv en större canvas och fler färger. Engelska är ett stort språk och det är det klassiska rockspråket.
Soundet mellan Henning och Armadillo King skiljer sig också en hel del. Henning kanske kan beskrivas som vis-pop-rock. Armadillo King är americana gjort på Ejnefjälls sätt.
– Jag vill ha mitt eget sound men samtidigt går det säkert att gissa mina influenser.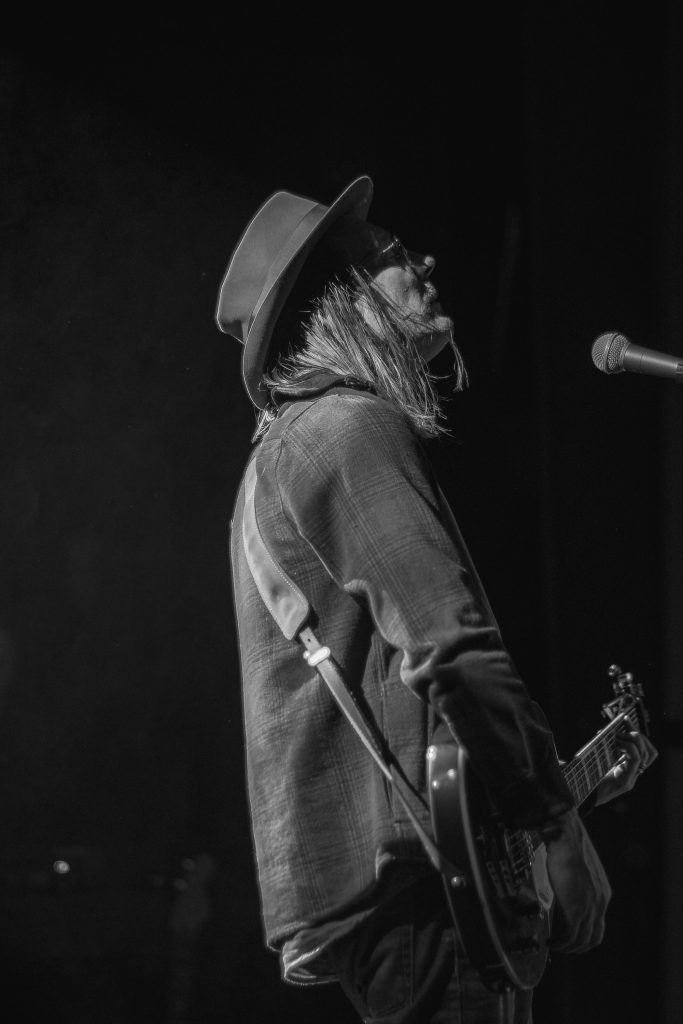 När Armadillo King släppte sin debutplatta A drifter's tale var Ejnefjäll en rotlös karaktär på drift, en vilda västern-karaktär med hatt och en person som egentligen ville slå sig till ro och som ville väl, men som gång på gång hamnade i trubbel.
Nu blir det inte samma sak. Om första skivan var mer fiction, mer spelfilm, så är det annorlunda nu.
– Nu är det ämnen som har varit högst verkliga för mig. På så sätt skiljer sig skivorna ganska mycket åt.
Samtidigt så hänger de ihop. Det är samma textförfattare, samma band och det är samma röst man hör.
– Det finns en röd tråd.
När Ejnefjäll gör sina låtar ser han allting som en större sak. Han ser "the big picture".
– Man lär sig att ta en liten idé till en färdig låt. Man blir bättre med åren.
Med tanke på är det kanske konstigt att musikvärlden i dag består av många yngre människor.
– Det är något väldigt fint i mognaden. En artist som har fyllt 60 år har sin livserfarenhet att erbjuda.
Ejnefjäll anser sig med åren ha blivit bättre på att sätta upp mål med sitt skrivande.
– Ska jag göra en singel, en EP eller ett helt album? Jag vill få en bild av vad man ska göra ganska tidigt.
Och han börjar snart måla upp en bild av allting. Vad ska albumtiteln vara? Hur ska omslaget se ut? Ejnefjäll ser till helheten. Han kan ha 15 låtar, men passar de verkligen ihop? Det kan helt enkelt vara bättre att ha tio låtar som hör ihop än tolv om två av dem två spretar åt något annat håll än vad han har tänkt sig.
Han kan också ha nio låtar, men känner att det behövs ytterligare en.
– Vad behöver skivan? Då kan jag skruva lite för att skivan ska bli bättre i sin helhet.
När Armadillo King nu ger oss albumet Forever with me blir det en högst personlig skiva. Ejnefjäll gör låtar om saknad. Hans far Lars Pettersson gick tragiskt bort förra året.
Han åkte in till lasarettet under sommaren förra året, men de trodde inte att det var så allvarligt.
– Vi trodde att det var ryggskott eller diskbråck, berättar Ejnefjäll.
– Men de hittade metastaser runt en kota.
Sonen blev givetvis väldigt oroad över sin far.
– Det började flaxa i huvudet. Vad händer om farsan dör?
Ejnefjäll sökte sig till musiken. En av de första låtarna han skrev var I'll find you in heaven.
– Jag började tänka tanken att det kanske inte går bra … och skrev låtar.
Lars Pettersson gick tyvärr bort senare den sommaren.
Ejnefjäll hade skrivit låtar hela tiden. Han fortsatte att förfina och putsa på dem och i februari var han och bandet klara.
– Allt föll på plats ganska snabbt.
Samtidigt var det självklart inte det mest enkla som han har gjort.
– Det är klart att det fanns jobbiga stunder när man skrev.
– Det var stunder då jag nästan bröt ihop och gråten fanns där, berättar han.
Ejnefjäll gick då in i rollen som artist.
– Man tar ett djupt andetag och agerar sig genom text och låt.
Vilken känsla får du när du lyssnar på låtarna i dag?
– Det är inte en för mörk, tung eller jobbig känsla. Det finns en strimma hopp. Jag känner mig glad och stolt när jag lyssnar nu. Det är vemod och smärta, nostalgi och värme.
Saknaden är stor. Han var inte bara en far utan också viktig när det kom till musiken.
– Han var en trogen supporter som följde mig musikaliskt hela tiden. Med tiden blev han en bästa kompis som var intresserad och frågade om jag hade någon ny låt på gång.
Saknaden och faderns betydelse genomsyrar hela albumet. Ja, det är hela albumet, men det finns även plats för nostalgi och hopp.
– Det är inte alltid så lätt att skriva om, men det föll sig naturligt och textmässigt föll allting på plats.
Och det är fina texter, låtar och album som Henning Ejnefjäll har tillägnat sin far.
– Han kanske finns där uppe och hör mig. Jag vill hedra honom.
Det är väldigt personliga texter men samtidigt ser han att de även kan vara allmänna.
– Det är många som går igenom svåra stunder.
Omslaget till
Armadillo Kings
album
Forever with me.
Ejnefjäll har också koll på vad man vill höra när man är ledsen. Det är inte en glad Gyllene Tider-låt.
– Man vill höra någon annan som har ont. Man kan tro att det ska vara något som piggar upp, men faktum är att det är tvärtom.
Ejnefjäll berättar att det var pappa Lars som fick in honom på att lyssna på artister som Bob Dylan och Tom Petty And The Heartbreakers.
– Det var inte så tokigt, säger Ejnefjäll och skrattar.
– Han har varit min musik-kompis genom hela livet.
Nu ska Armadillo King försöka hitta ut till fler lyssnare och att nå ut till en ny publik är inte det enklaste. Media kan ha den dåliga vanan att ofta spinna vidare på det de känner till och inte ge nya band så mycket till chans.
– De kör på sådant som redan har tagit sig fram.
Men Ejnefjäll hoppas ändå nå ut och hitta de som är genuint intresserade av musik.
– Man får göra vad man kan och hoppas att musiken hittar fram. Vi är ett bra live-band och ska försöka bli bättre på att komma ut och spela.
Samtidigt så har Armadillo King – som består av, förutom Henning Ejnefjäll, Brian O'Connor, Patrik Leppänen och Mikael Rosenberg – en fanskara på ett kanske lite oväntat ställe – de finns på Irland.
– Vår gitarrist Brian O'Connor kommer därifrån berättar Ejnefjäll.
O'Connor livnär sig som trubadur och i Limerick har de koll på vem han är och att han finns med i Armadillo King. Då finns det planer på att åka dit och spela live.
– De ser på musik på ett annat sätt än i Sverige. Den svenska artisthimlen fylls med Benjamin Ingrosso, Zara Larsson, Håkan Hellström, Så mycket bättre och Melodifestivalen. Det är svårt att ta sig in där, speciellt med den musiken som vi gör.
På Irland är det annorlunda. Där finns ett större intresse för annan musik och americana går hem där.
– Det finns en ö som tycker om det här, säger Ejnefjäll och skrattar.
Fakta | Tre album som man måste höra
Bob Dylan – Blonde on blonde.
Bruce Springsteen – The river (Det blir extra bra när man känner till historien. Han jobbade i två år i studion med det albumet).
Tom Petty And The Heartbreakers – Damn the torpedoes.