High Up North är ett nytt band som nu singeldebuterar.
Fast medlemmarna känner varandra hyfsat väl och finns i vanliga fall med i ett annat band …
Rockfarbror premiärvisar nu videon till låten Ride!
4/5
Artist:
HIGH UP NORTH
Albumtitel:
RIDE (SINGEL)
År:
2020
Genre:
ROCK, AMERICANA, FOLK
Skivbolag:
HIGH UP NORTH

Det har varit ganska tyst runt Selma & Gustaf With The Unmarried Queen under ganska lång tid nu.
Men när man går och hoppas på något nytt från dem så kommer det något annat. Då kommer det ett nytt band: High Up North.
Tittar man närmare på bandet så finns samtliga med i Selma & Gustaf With The Unmarried Queen. Gustaf Johnsson är ena halvan av Selma & Gustaf. Sedan är det Emil Thurell (trummor), Calle Embretsén (bas, synth) och Viktor Rasimus-Ek (gitarr) som utgör The Unmarried Queen så det här är ett gäng som känner varandra utan och innan.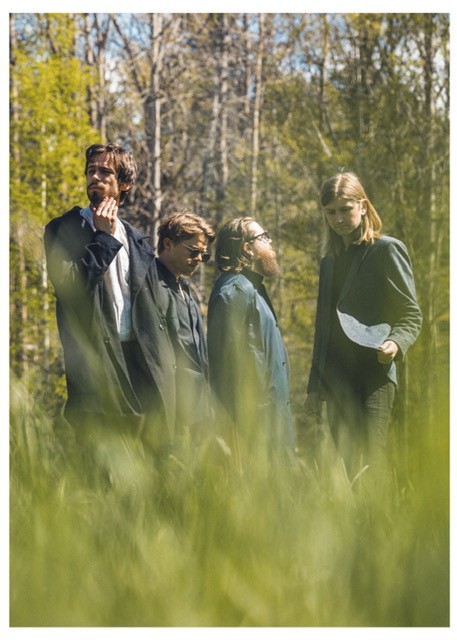 När de nu ska singeldebutera väljer de att göra det enkelt för sig – eller svårt beroende på hur man ser på saken … De tolkar Ride och det är kanske inte det enklaste som finns med tanke på att det är melankolins mästarinna Lana Del Rey som gör den i original.
Idén att göra en cover kom när bandet anlitades för att spela på en festival och de behövde någon låt för att fylla ut sin setlista. Alla i bandet tände direkt på att tolka Ride. Alla utom Johnsson då … enligt pressutskicket inför släppet så hade han aldrig ens hört låten eftersom han nästan aldrig konsumerar ny musik. Han fick dock höra den och snart var samtliga överens om att det var rätt låt att göra.
Dessvärre spelade vi den aldrig live under någon av spelningarna då vi konstant hade delar som vi ville förfina på den. Till slut kände vi oss nöjda och såg då inget annat alternativ än att spela in den. Så varsågoda, High Up North – Ride.

High Up North
Och nu premiärvisas videon till låten här på Rockfarbror. Det är en livesession som spelades in på en innergård i Stockholm.
Visst är det – givetvis – lite samma stuk som Selma & Gustaf With The Unmarried Queen. Det är fortfarande någon rock-indiefolk-americana. Det är lite soft och skönt. Visst blir det skillnad när inte Selma Edenståhl finns med, men Gustaf Johnsson klarar sig utmärkt när han får ta hand om sången på egen hand också.
Och visst lyckas High Up North göra Ride rättvisa. De gör en riktigt bra version av en kanonlåt så visst är detta en alldeles strålande start på projektet.