Hildur Höglind släppte den suveräna singeln Steal her away förra året. För någon vecka sedan släppte 23-åringen en ny singel: Further away.
Och snart kommer det ännu mer från henne.
– Det stora projektet just nu är att få ut den kommande EP:n och se till att den får en så bra chans som möjligt att bli hörd och spelad, säger hon.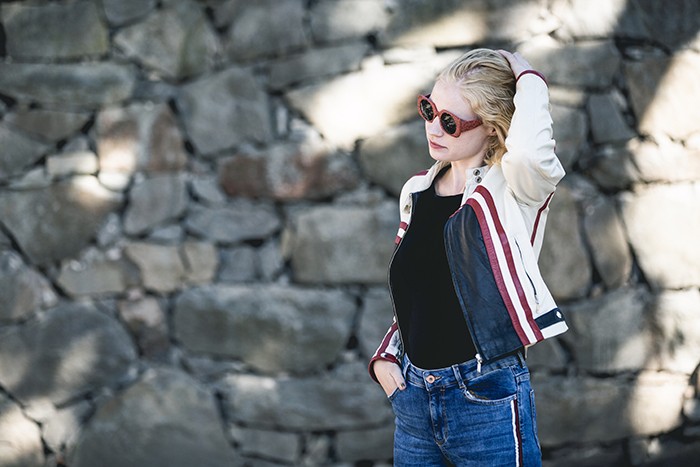 Hur gammal var du när du började med musik?
– Mina föräldrar är utbildade musiklärare båda två, så musiken har funnits med sedan innan jag föddes. Jag började nog sjunga innan jag pratade. Sedan började jag ta fiollektioner när jag var sju och sånglektioner när jag var 14. När jag var ungefär 15 började jag spela gitarr och lite senare skriva egna låtar lite mer seriöst.
Varför blev det musik?
– Det var oundvikligt. I min familj ingår att spela ett instrument och öva, om än lite, i uppfostran. Det var obligatoriskt fram tills att jag var 16, och efter det gick det av bara farten. Först runt 2016-2017 började jag ta en medveten liten paus för att se om musiken var något jag själv ville ägna mig åt, eller om det gick på autopilot. Jag kom fram till att oavsett vad det var som startade det så hade jag saknat musiken för mycket för att sluta nu när jag är inne i det.
Om du inte hade sysslat med musik vad hade du gjort då?
– Något annat kreativt tror jag, eller något språkinriktat. Översättare kanske. Eller möjligen lärare.
Nämn tre låtar som du önskar att du hade gjort själv?
– Oj, det är så många … Familiar av Agnes Obel, Bury a friend av Billie Eilish och Dancing on my own av Robyn.
Vad har du släppt för några singlar, EP och album?
Vad är din största framgång så här långt?
– Ingen aning, jag känner mig inte särskilt framgångsrik. Faktum är att jag känner mig ganska misslyckad för det mesta, men att få ta emot STIM-stipendiet 2017 räknar jag som en stor framgång.
Jag skrev det som ett skämt först, "Bara gift er nu!", för att retas lite med dem.
Jag listade Steal her away som en av de bästa låtarna under 2018. Berätta om den!
– Steal her away skrev jag om två vänner som uppenbarligen gillade varandra, men inte vågade erkänna eller visa det. Jag skrev det som ett skämt först, "Bara gift er nu!", för att retas lite med dem. Den är producerad av fantastiska Anton Engdahl som också har producerat Nadja Evelina. Steal her away är just nu en av fem nominerade i kategorin Love Songs i Independent Music Awards som avgörs i New York 21 juni, samma dag som min EP Take off kommer.
Du är aktuell med en ny låt, Further away! Berätta!
– Further spart skrevs I höstas tillsammans med producenten och låtskrivaren Joakim Buddee och David Alexander. Vi utgick från några rader jag hade skrivit tidigare och det var det som blev första versen. Därifrån jobbade vi vidare med temat och utforskade olika sätt att uttrycka det vi ville. Further apart har fått ett bra mottagande hittills, omskriven av Storbritanniens största internetbaserade musikmagasin och finalist i P4 Nästa Blekinge bland annat. Det känns jätteroligt, jag hoppas att resten av EP:n får ett lika varmt välkomnande!
Den skiljer sig en del mot tidigare låtar. Varför blev det så här den här gången?
– Jag ville prova att göra musik som drar mer mot pop och hade fler synthelement. Jag kontaktade Joakim för jag visste att han var bra på sådant, och vi satte ett datum att ses och skriva. Sedan blev det automatiskt att vi föll in på precis det spåret jag ville. Joakim är väldigt lyhörd och vi har flera artister som vi inspireras av båda två, Robyn och The XX till exempel.
När skrattade du senast?
– I går tidigt på morgonen när jag pratade i telefon med en kompis tror jag.
Har du någon konstig ovana?
– Hmm, jag tenderar att vända på dygnet väldigt mycket. Jag stiger helst upp på eftermiddagen och lägger mig sent, alternativt stiger upp tidigt, sover några timmar på dagen och är uppe sent. Men jag vet inte om det räknas som tillräckligt konstigt. Jag behöver enormt mycket sömn dessutom.
Du släppte EP:n Poems för något år sedan. Där har du bland annat tonsatt dikter skrivna av drottning Elisabeth I, Edgar Allan Poe och Dylan Thomas. Hur kom du på att du ville göra det? Var det svårt att få till det som du ville ha det?
– Jag läste en del dikter under den perioden, jag mådde inte så bra och letade efter igenkänning i poesi. De tre dikterna som tonsattes var de tre som jag föll mest för. Jag vet inte hur jag kom på att tonsätta dem. Det föll sig rätt naturligt, de hade bra mönster för melodi. Det gick ganska fort med Elizabeths och Thomas, jag gick på känsla, Poes var svårare. När jag själv skriver musik har jag alltid svårast för att få texterna som jag vill ha dem, så när nu texterna var klara kunde jag fokusera på melodin direkt.
Hur går det till när du gör en låt?
– När jag skriver själv börjar jag nästan alltid med en textrad eller ett ord, och lägger melodi på det med en gång och bygger vidare på texten samtidigt som melodin. Sist kommer ackord och arrangemang.
Var hittar du din inspiration till musiken?
– Olika observationer och människor, filmer, musik, citat. Det kan vara allt möjligt!
Gör du allting själv?
– Nej, det gör jag inte. Generellt sett skriver jag text och musik själv, får input på harmonier och ackord från pappa Niclas. Sedan producerar någon annan i samråd med mig, hittills har pappa producerat det mesta, men också Anton Engdahl (som har producerat åt Nadja Evelina) och nu senast Joakim Buddee (Isle Of You, Summer Heart). Med den kommande EP:n har processen sett lite annorlunda ut. Joakim och jag har nämligen skrivit tre av fem låtar tillsammans utifrån tidigare låtskisser. Det har varit jätteroligt att skriva med honom och få input och nya vinklar, han är en fantastisk låtskrivare och producent!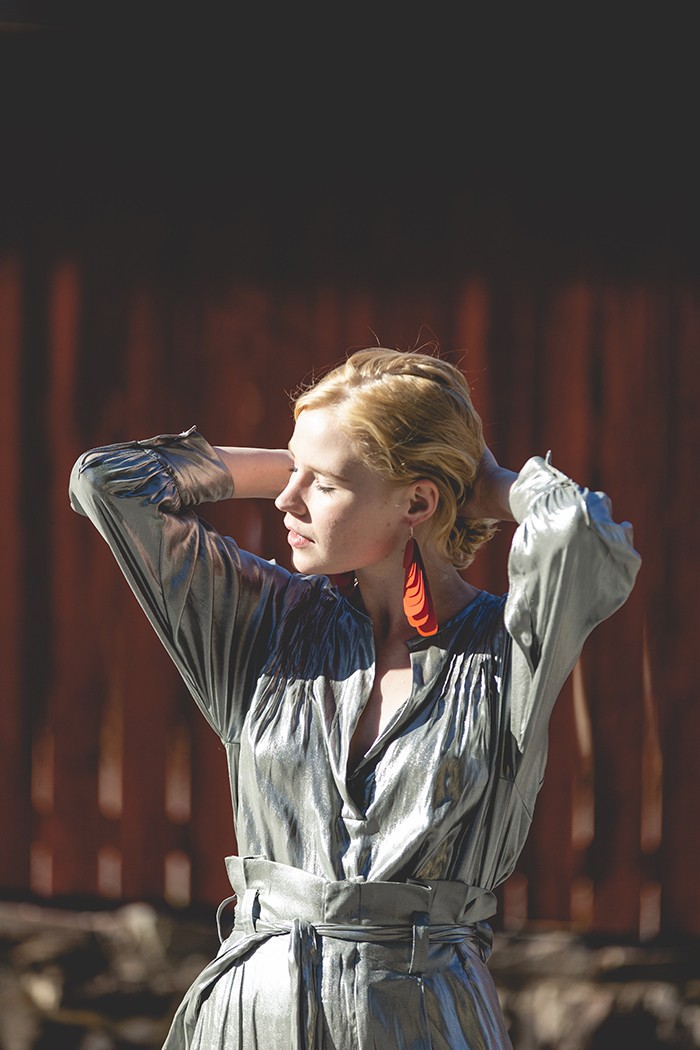 När var den senaste gången du svor?
– Jag svär extremt sällan på svenska. Om jag däremot är i en situation när jag pratar engelska svär jag ganska mycket. Det är väl distansen till språket som gör det. Senaste gången var nog när jag pratade i telefon med mitt ex Kaimiola (som är amerikan) för ett par dagar sedan. Vi pratade om Game of thrones så det var nästan oundvikligt!
Jag är också väldigt förtjust i en svensk låt som kommer på EP:n, den första svenska som jag släpper.
Om du får välja ut en av dina låtar som din personliga favorit. Vilken väljer du?
– Svårt … Man är ju alltid mest förtjust i det senaste man gjort så en favorit just nu är nästa singel som kommer 31 maj, My heart (won't skip the beat that it should). Jag är också väldigt förtjust i en svensk låt som kommer på EP:n, den första svenska som jag släpper.
Du har släppt singlar och EP:s. När kommer albumdebuten?
– Jag hoppas att den inte ligger för långt bort i tiden. Jag har ett gäng låtar som är färdiga och ett flertal på gång. Det hänger ju lite på min ekonomi också såklart, men med lite tur kanske det kan komma en fullängdare nästa år. Det blir lite mer singer/songwriterstuk då.
Föredrar du att ringa eller skicka sms?
– Ringa. Det är svårt att skämta eller förmedla nyanser via sms, och jag gillar att höra den andra personens röst.
Hur skulle du själv beskriva din musik?
– Det beror så mycket på vilken låt eller samling det är. I grunden är det ju singer/songwriter-låtar ofta, baserade på sång och gitarr, särskilt när jag skriver själv. Men sedan vill jag inte boxa in mig i termen singer/songwriter heller. Min musik är textbaserad, har ofta fokus på den mörkare sidan av livet, eller det där vi inte pratar om kring middagsbordet.
Har du några låtskrivare som inspirerar dig?
– Absolut, många. Robyn, The XX, Anna Ternheim, Ed Sheeran, Veronica Maggio, Billie Eilish … Listan kan göras lång. Hos vissa beundrar jag tonspråket, hos andra texterna och hos vissa är det produktionerna eller låtidéerna.
Vad lyssnar du på för någon musik själv just nu?
– Jag har faktiskt just upptäckt Billie Eilish, precis som resten av världen. Väldigt spännande produktioner. Annars lyssnar jag en del på Ratatat.
Vem ringer du när du är arg/ledsen?
– Jag har inte någon specifik person som jag ringer. Det blir ofta att jag tar mig igenom det själv eller möjligen pratar med den som råkar vara där just då. Mina närmsta vänner är såna man umgås med intensivt när man ses, men sedan inte har så mycket kontakt med mellan gångerna.
Det stora projektet just nu är ju att få ut den kommande EP:n och se till att den får en så bra chans som möjligt att bli hörd och spelad.
Hur ser framtiden ut, har du något nytt projekt på gång? Blir det några livespelningar framöver?
– Det blir en del livespelningar i sommar, absolut. Crossbeat Festival i Hässleholm 15 juni, Torsjö Live 29 juni, Sunset Sessions på Öland 8 juli, Östersjöfestivalen 16 juli, Sjöfartsmuseet i Bergkvara 23 juli och Äggaboden i Ronneby 26 juli. Fler spelningar kommer att bli offentliga snart! Däremellan kommer jag nog att jobba lite extra någonstans. Det stora projektet just nu är ju att få ut den kommande EP:n och se till att den får en så bra chans som möjligt att bli hörd och spelad.
Du är nominerad till den internationella musiktävlingen Independent Music Awards i kategorin Love songs med Steal her away. Berätta! Vad är detta? Känslan att vara nominerad?
– Det känns jätteroligt att vara nominerad! Love Songs är en av de tävlingarna med mest konkurrens, så det är extra roligt att det är i just den jag tävlar. Det är också roligt eftersom jag då tävlar mot andra genrer och inte bara min egen. De andra kategorierna är nämligen genrebaserade, men det är inte Love Songs. Domare i år är bland annat Tom Waits, Ben Lovett (Mumford and Sons) och Robert James Smith (The Cure) så det är tunga namn som hör låten. Det ska bli spännande att se hur det går!
Vad ska du göra när du har svarat klart på alla frågor?
– Smida. Jag håller på att göra elefanter av silvergafflar. Det ger mig ro att jobba med händerna utan möjlighet att fokusera på annat. Är man intresserad av att se Gaffelfanterna kan man följa @gaffelefantdesign på Instagram.
Här finns Hildur Höglind på Spotify: