Ta fram ölen.
Ta fram whiskeyn.
Höj volymen.
Dra i gång Finnegan's Hells nya platta One finger salute – för nu är det party!
4/5
Artist:
FINNEGAN'S HELL
Albumtitel:
ONE FINGER SALUTE
År:
2022
Genre:
PUNK, CELTIC
Skivbolag:
WILD KINGDOM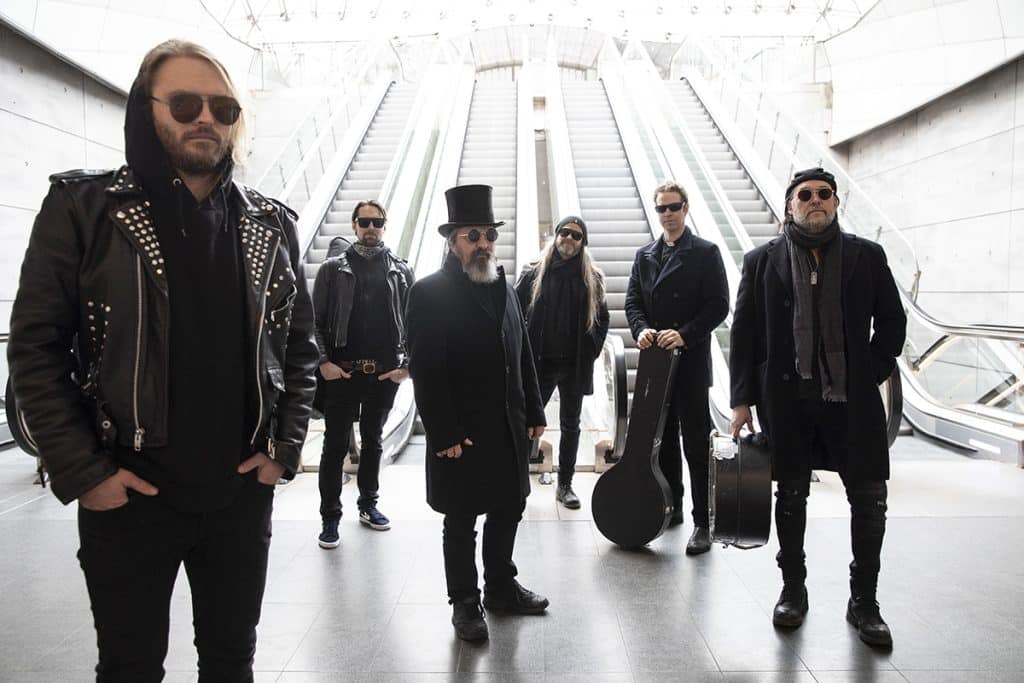 Rubriken först. Den anspelar givetvis på titelspåret – och nej, jag vill absolut inte att Finnegan 's Hell drar år pipsvängen. Däremot skulle jag gärna stå på golvet framför scenen när de spelar och sjunga med i One finger salute … "Fuck you // Fuck your brother // Fuck your sis // Your mom and daddy too!" Det är rå humor förpackad i en celicpunk-kostym och jag bara älskar det.
De här välklädda gentlemännen – som nu släpper sin fjärde fullängdare efter Drunk, sick and blue (2014), Life and death (2018) och Work is the curse of the drinking class (2020) – ser till så att vi räcker fingret rakt upp åt allt och alla!
Det är attityd, men samtidigt svänger det som tusan när det blir fotstampsgung och en allsångsrefräng där man bara vill ropa "Fuck you!" med ett leende på läpparna – och samtidigt gärna krama om den som står intill.
Det blir dock mycket mer är ett fuck you på albumet som innehåller tio härliga låtar:
What have you got in the end?
One finger salute
Mickey Finn
Read my lips
Godforsaken town
Run boy run
Comin' after you
I'll make it up to you
Nothing left to lose
Oh death
Vi har aldrig jobbat så fokuserat med något tidigare album. All dötid som uppstod under pandemin la vi på att göra nya låtar och kunde slänga mer än hälften av våra skapelser i processen som ledde fram till de tio spår som hamnade på plattan.

Mick Finnegan
Finnegan's Hell krånglar inte till det utan kör vidare med texter om livet, döden och alkohol och det är lite kul att de flesta av låtarna har kommit till då bandet har jammat i studion.
Det blir klassisk celticpunk/folkpunk och redan när albumets förstaspår – What have you done in the end? – går i gång börjar man längta efter en pub i Dublin eller i London.
Det är hur härligt som helst när det blir fart, drag och fotstampsgung – som de gör under albumets inledning – men det är också härligt att höra Finnegan's Hell dra ned på tempot en del. De gör det i Godforsaken town.
Fast … det går inte att komma ifrån att man blir glad när Finnegan's Hell driver upp tempot och bjuder på banjo, tin whistle och allt annat under drygt två minuter i Run boy run. Sicken härlig låt, alltså!
Topp tre? Det är de redan nämnda: One finger salute, Godforsaken town och Run boy run.
Det finns dock mycket mer att lyssna på här. Mickey Finn, I'll make it up to you, Nothing left to lose och Oh death får i alla fall mig att vilja dansa med djävulen …
Finnegan's Hell
Pabs Finnegan (sång, gitarr)
Mick Finnegan (tin whistle, banjo, sång)
San Finnegan (bas)
Cozy Finnegan (slagverk)
Ace Finnegan (trummor)
Old Roxy (dragspel)