Tre plattor.
Tre plattor som har fått 5/5 i betyg.
Mina damer och herrar … Black Paisley är tillbaka!
5/5
Artist:
BLACK PAISLEY
Albumtitel:
RAMBLER
År:
2020
Genre:
ROCK
Skivbolag:
BLACK PAISLEY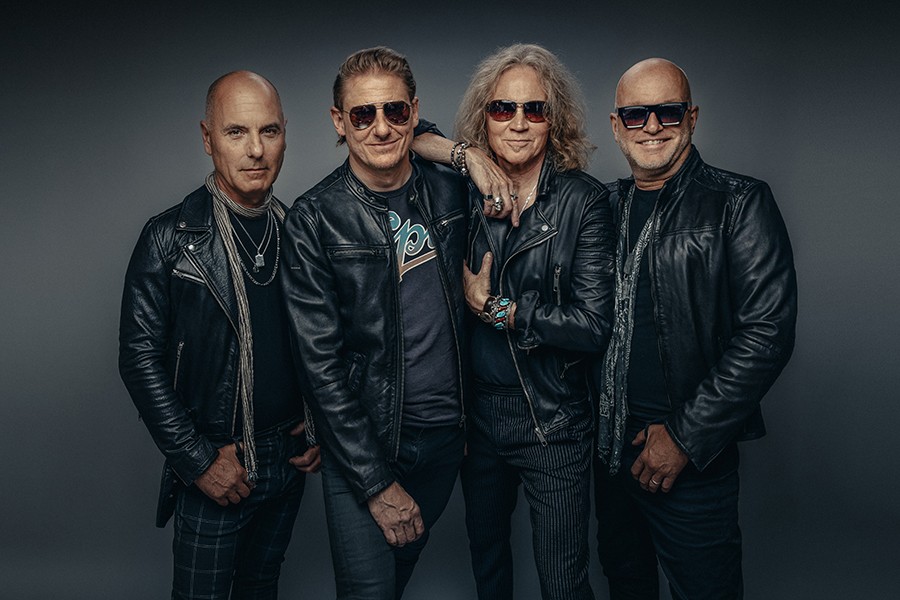 Det började 2017 med Late bloomer. Black Paisley fyllde sedan på med Perennials året efter. Båda gångerna övertygade Black Paisley, som bildades av Stefan Blomqvist 2014, stort och de växte snabbt till favoriter här hemma.
Och, ja. När de släpper något nytt så är jag färgad. Det är något med deras sound som jag inte kan motstå …
Damned
Without us
Higher love
Save the best
Timeless child
Take me to the river
Falling
Give it up
Det där är låtarna på Black Paisleys tredje album Rambler och man kan väl konstatera att det är en häftig resa för bandet som är något av ett spinoff från coverbandet StephMetal …
När de nu släpper Rambler så ser det lite annorlunda ut i bandet. Ett par medlemmar har lämnat den nya line-upen av Black Paisley är:
Stefan Blomqvist (sång, gitarr)
Franco Santunione (gitarr)
Jan Emanuelsson (bas)
Robert Karazi (trummor)
Deras tidigare plattor har varit melodiös rock, AOR och modern country. Riktigt så är det inte längre. Visst, man känner fortfarande igen Black Paisley – inte minst när Stefan Blomqvist ligger inne med den där fantastiska rock 'n roll-rösten. Men detta är en ny och uppdaterad version av Black Paisley som väljer att göra det lite hårdare och lite mer modernt.
Det är också fler snabbare låtar – vilket borde göra sig grymt bra live. Tänk bara att få se och höra gitarrsolot på den första singeln Without us … Den låten är ett steg mot det nya Black Paisley-soundet. Det är fortfarande klassisk och melodiös rock. Här känns det dock som sagt lite mer modernt och kanske att det är något steg mot Inglorious?
Without us
Without the fire
With a touch
To take me higher
Ain't enough
For those long
Lonely nights away

Black Pailsey
Det är i alla fall lite tyngre och gitarrerna som Blomqvist och Santuinone (känd från bland andra Electric Boys och Cirkus Prütz) tar hand om får ta större plats samtidigt som keyboardsen är bortplockade. Det är det gamla och det nya som har rörts ihop och det låter väldigt bra, men det blir ännu vassare på denna plattan …
Rambler kickar i gång med en riktigt rocker! Det är Damned och vilket sound vi får! Det är rock 'n' roll med ett bra drag. Lägg sedan till att det bankas som fan på trummorna och gitarrsträngarna är nästan blodiga. Ändå är det Black Paisleys härliga gung. Vilken låt!
Det är starka låtar hela vägen. Det finns låtar som fastnar direkt och det finns låtar som växer. Take me to the river kändes kanske som ett av de svagaste spåren från början. Så är det inte när man har lyssnat på plattan fem gånger. Då är det en urstark låt med ett härligt fett sound.
Det finns dock två spår som ser till att hela plattan skjuter i höjden. Det är Save the best och Timeless child.
Save the best är melodiös, catchig och har ett grymt skönt gitarrsound och en lika härlig refräng. Det är dock vägen fram till refrängen som lyfter hela låten. Plus då att vi givetvis får Blomqvists röst … vilken låt!
Timeless child är tyngre. Här blir det lite mer blues i det hela plus att vi återigen får härliga gitarriff i en låt som brister ut i en allsångsrefräng. Det är fantastiskt hela vägen! Vilken låt! Igen!
Och vilken platta av Black Paisley! Det är fan nästan irriterande att Black Pailsey rundar av allting med en så vass låt som Give it up … man vill ju liksom bara ha mer!
Värt att nämna är att det är Franco Santunione som har producerat albumet och Robert Pehrsson (Thunder Express, Robert Pehrsson's Humbucker) har stått för mixningen.
Rambler släpps i morgon den 11 december.
Black Paisley
Stefan Blomqvist (sång, gitarr)
Franco Santunione (gitarr)
Jan Emanuelsson (bas)
Robert Karazi (trummor)