2017 släppte Perpacity och DLV plattan Convergence.
Snart är Perpacity tillbaka med en egen platta. I september får vi The order of now.
4/5
Artist:
PERPACITY
Album:
THE ORDER OF NOW
År:
2018
Genre:
ELEKTRONISKT, SYNTH
Skivbolag:
PERPACITY

Ni kan det väl vid det här laget … Perpacity, som bildades för åtta år sedan, är Ian Harling, som bor i Bristol, England, och Martin Nyrup, som bor i Köpenhamn, Danmark.
De två bjuder på en ganska mörk elektronisk musik som för tankarna till band som Depeche Mode och Mesh.
På The order of now får vi 13 nya spår:
Alpha Exordium
Gone
More
Rule the day
Love is the lie
Out of nothing
Telethon
Creeps beneath your skin
Dance to disco
In never mind
Shout out
Goodbye
Omega cacumen
Det här är en samling starka synthlåtar, men att det skulle bli bra visste vi också. Vi har ju redan fått singlarna Rule the day och Telethon. Båda är grymma!
Det är två låtar som både är mörka och melodiösa. Det är två låtar som kanske kräver några lyssningar, men det är lite så med hela den här plattan. Man behöver ge den några lyssningar för att upptäcka allt som händer när Perpacity nästan leker sig fram i sina synthslingor – och ju mer man lyssnar desto bättre blir det.
Telethon kan vara den absoluta favoritlåten på plattan. Det är utan tvekan en av de bästa elektroniska låtarna som man har hört i år.
Stand by your TV and your radio (if free)
Await my Telethon
And you can give me the reasons why
And when my fever breaks
In your cold embrace
You can give me the reasons why
For what you do
Give me the reasons why
For what you do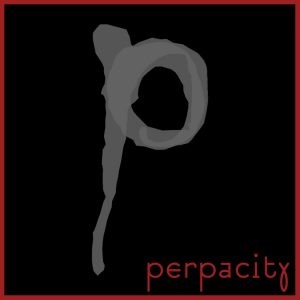 Det är något med det här mörka soundet – som ändå känns ljust på något sätt – som göra att man fastnar stenhårt i det.
För en som diggar 1980-talssynthpop så är det här rena skattkistan med sköna låtar. Dra bara i gång In never mind eller Creeps beneath your skin med den lite tickande synthslingan … Fast det här är mer än en nostalgitripp. Perpacity känns också fräscht och nytt.
Bästa spåren? Telethon, Rule the day, In never mind och Creeps beneath your skin.
Det dröjer dock ett tag tills plattan släpps. Ni får stå ut tills den 7 september. Det är värt väntan …