Electric Guitars är tillbaka med sitt fjärde album – och gissar om det rockar?!
Freewheeler är en platta som är fullmatad med gitarriff!
4/5
Artist:
ELECTRIC GUITARS
Albumtitel:
FREEWHEELER
År:
2021
Genre:
HÅRDROCK
Skivbolag:
MIGHTY MUSIC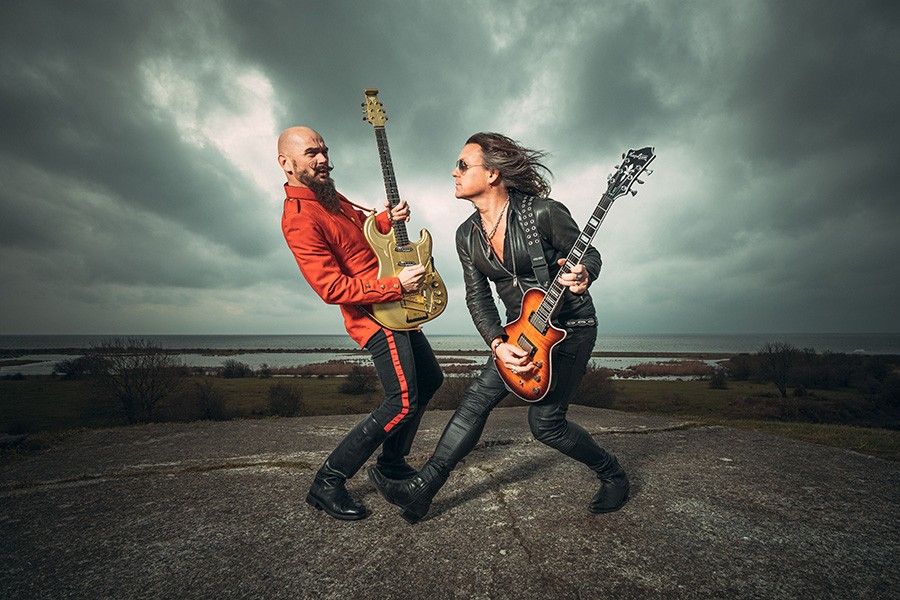 Gillar du D-A-D, AC/DC, Thin Lizzy och Glenn Hughes? Kolla då in det här albumet …
Freewheeler bjuder på gitarrer och åter gitarrer. Det är kanske inte så konstigt när det är Soren Andersen – gitarristen som dessutom är en producent i världsklass – och Mika Vandborg som ligger bakom det.
De två lirar båda gitarr här och de delar dessutom på sångsysslan när det rockas loss. Electric Guitars är redan välkända i Danmark och de har delat scen med D-A-D vid flera tillfällen.
Dopamine
Hot blooded woman
Nervous breakdown
Zero four
Going out
Incoming
Cut loose
Freewheeler
The rainbow
Welcome history
We've never been closer and tighter as a band. Every other band is doing something nice, polished and produced – we just wanted to share this raw energy.

Soren Andersen
Det är gitarriffen som hamnar i centrum, men Electric Guitars är mer än så. De får verkligen till bara låtar – och det är energifylld hårdrock, men de petar in allt från blues och punk till AOR i dem.
Electric Guitars kickar i gång albumet med Dopamine och det blir ett bra drag. Trummorna tuggar på som fan och det blir feta gitarriff. Det är så fett att det nästan känns som om Electric Guitars har suttit inne, på grund av covid-19-pandemin, med den här musiken så länge att de nu håller på att spricka! Det är full fart och allt ska ut!
Nästa gång man fastnar lite extra är med Zero four. Det är tungt och bluesigt precis som det är med Incoming. Den catchiga Going out skickar ut en liten funkig känsla.
Cut loose är en annan låt som sticker ut. Det är en låt som det doftar 1980-tal över. Det är nästan Rick Springfield-rock! Det funkar skitbra! Och när man direkt efter den får Freewheeler så tänker man mest "va fan!" De vrider till soundet direkt och jävlar! Här blir det nästan lite Joan Jett & The Blackbirds och I love rock'n roll-känsla.
Electric Guitars
Soren Andersen (gitarr, sång)
Mika Vandborg (gitarr, sång)
Peter Kjobsted (bas)
Morten Hellborn (trummor)