Under 2018 drog Electric Guitars ut på en turné i Danmark och de spelade in varenda konsert.
Nu har de valt ut tio låtar från tio konserter i tio olika städer och pusslat ihop det till en liveplatta.
4/5
Artist:
ELECTRIC GUITARS
Album:
10 SONGS 10 CITIES
År:
2019
Genre:
ROCK
Skivbolag:
MIGHTY MUSIC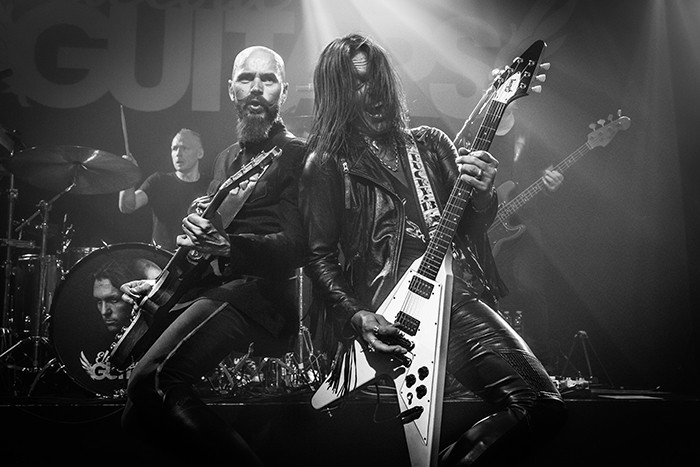 Det är låtar från plattorna Electric Guitars (2013), String fever (2015) och Rock 'n' roll radio (2017) som finns med på livealbumet 10 songs 10 cities.
Rock 'n' roll radio
False flag operation
Lucy glow
White flag
Swagman
Back to you
Running out of time
Day off
The man from outer space
The thinner the eyebrow the crazier the woman
Och det är en jäkla rockplatta som Electric Guitars har fått ihop. Livesoundet är tungt och fett som tusan och det känns nästan som om man är där på konserten och hör dem … sedan är det ju inga dåliga låtar som det här gänget har valt ut och sedan mixat på old school-sättet tillsammans med Sören Andersen (Glenn Hughes, Mike Tramp) i Medley Studion i Köpenhamn.
Så här säger Andersen i ett pressutskick:
It was some kind of a trip to listen to the recordings after almost a two-year break. It is played as if we would never play together again, and the "now or never"-energy is fantastic when it comes to Electric Guitars.
Det är klassisk rock. Det är liksom inga krusiduller. Det är småtung rock 'n' roll med melodier och mycket gitarrer och när plattan kickar i gång med Rock 'n' roll radio så har man liksom vunnit mitt hjärta. Det är en absolut höjdare! Efter det radar faktiskt Electric Guitar upp smått lysanade låtar där man bland annat får vibbar från AC/DC. Man fastnar dock på en del ställen. Inte minst så är det bluesiga White flag och balladen Day off som suger åt sig uppmärksamheten.
10 songs 10 cities släpps den 6 december.
Electric Guitars ger sig ut på en ny turné under 2019 och här är datumen:
5 december: Beta2300, Köpenhamn.
12 december: Pavillonen, Grenå.
13 december: Tøjhuset, Fredericia.
14 december: Cosmorama, Bramming.
19 december: Posten, Odense.
20 december: Gimle, Roskilde.
Electric Guitars
Søren Andersen (sång, gitarr)
Mika Vandborg (sång, gitarr)
Peter Kjøbsted (bas)
Morten Hellborn (trummor)