Jag minns första lyssningen på Accepts nya Balls to the wall sent 1983. Vi som nyss hade upptäckt bandet noterade storögt att där inte fanns någon Jörg Fischer längre utan en Herman Frank.
Det är dags att få svaren på hur det gick till samtidigt som huvudsaken är att diskutera nya plattan och livet efter corona.
Hallo Herman, wie gehts?
– Bara bra, kommer svaret från Hannover.
Den här nya plattan har verkligen både en annorlunda titel och omslag. Varifrån fick du idéerna?
– Haha, det var egentligen ett misstag! Rick gjorde demon till Venom och när vi diskuterade blev det något missförstånd. När jag tänkte på det blev det tydligt att det bara behövs två personer för att det ska bli fel och det kan spridas och bli en lögn. Jag var inte så inspirerad till att sätta titel på plattan för övrigt. Omslaget var klart och blev kvar.
Okej, men hur kom det sig att du blev med svensk sångare 2011? Var det också en slump?
– Nej då, bara delvis. Vår förre sångare Jioti Parcharidis fick problem med rösten och får inte sjunga längre. Via en bekant i Kanada fick jag kontakt med Rick. Jag gillar Rick. Han är en riktig sångare som är värd avståndet till Sverige och han återkom snabbt med pålagd sång vid första kontakten.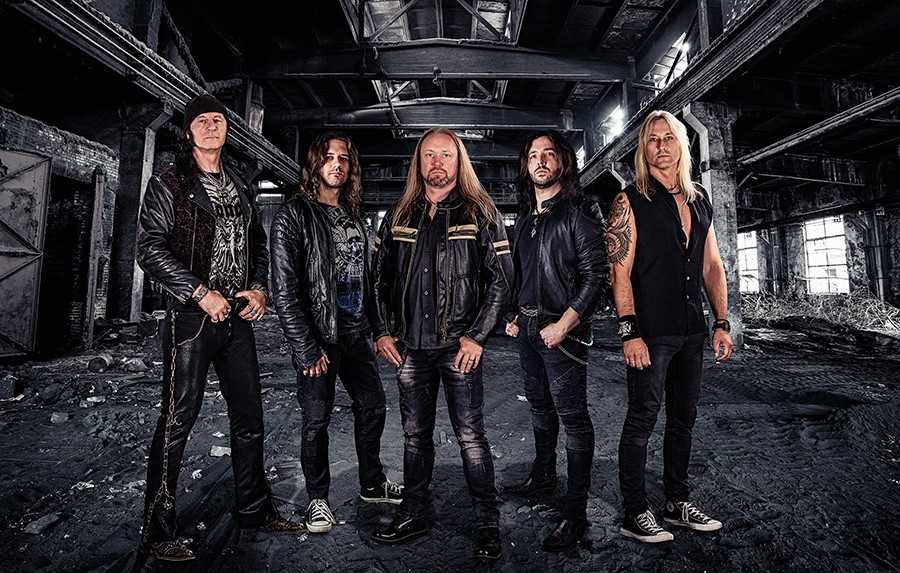 På tal om slumpen hur kom du med i Accept en gång i tiden? Jag minns inte att jag har sett det förklarat någonstans?
– Haha, jag fick bara rätt nummer och vågade ringa. Jag hade börjat spela när jag var 14-15 år och hade bara spelat lite i olika band hemmavid. Jag hade inga stora meriter utan ringde bara och kom med i bandet, trots att jag bodde en bra bit från Sohlingen.
Jag ser mig som killen i både Accept och Victory. Jag gillar alla skivor jag har medverkat på.

Herman Frank
Fast jag kanske är lite oförskämd nu som ser dig som Accept-killen, fast du spelat in mer med Victory? Det såg ut som om du hade roligare när du till exempel spelade i videon till Rock'n'roll kids forever med Victory?
– Nej då, jag ser mig som killen i både Accept och Victory. Jag gillar alla skivor jag har medverkat på, men jag kanske slutade i Accept för att ha roligare någon annanstans.
Okej, tillbaka till nutiden. Hur tror du det blir efter covid?
– Ja, det blir svårare med pengar för att turnera. Det är tufft för mig som hellre spelar live än gör skivor i studion. Det har blivit svårare att få ihop 14 gigs och spelställena kanske inte överlever. Samtidigt går det ju inte att betala för att spela och stå med 15 000-20 000 euro i skuld efter turnén. Support från skivbolagen för turnéer finns ju inte heller längre.
Så vad händer härnäst?
– Ja vi har ett par stora festivaler, en i Moskva och en i Tjeckien, men först och främst är det promotion för Two for a lie och jag är riktigt nöjd med annonseringen i branschtidningarna. Jag kommer att göra hundratals intervjuer som denna. Det brukar bli i varierande grad av engelska och särskilt intressant vad det blir av intervjuerna tycker jag det är med till exempel svårförstådda mexikanare eller skottar. Förresten, nu ropar grabbarna på mig. Vi spelar in nya Victory-plattan för fullt. Jag är dock tacksam för min tillvaro i musikbranschen och hoppas att jag får fortsätta spela för evigt.