Punktrion The Coathangers är framme vid sitt tredje studioalbum.
När de då lägger mer fokus på större och mer melodiska arrangemang så låter det inte riktigt som förr …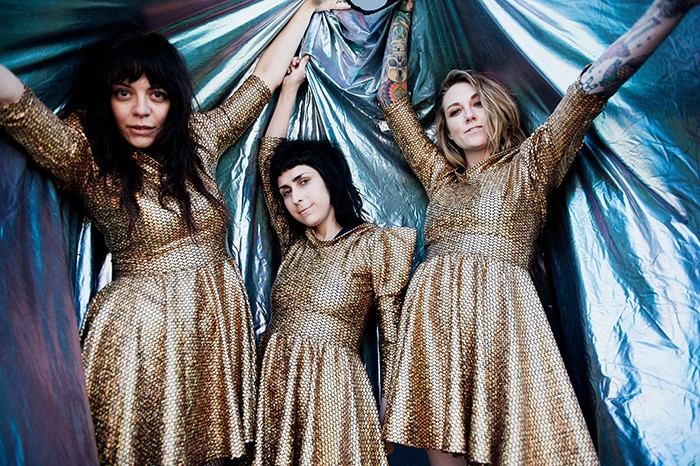 Punkrock/garagerock-bandet The Coathangers, som kommer från Atlanta, Georgia, bildades 2006 och så här ser deras diskografi ut:
The Coathangers (2007)
Scramble (2009)
Larceny & old lace (2011)
Suck my shirt (2014)
Nosebleed weekend (2016)
The devil you know (2019)
Efter att, sedan starten, ha turnerat flitigt och med ett jämnt flöde skicka ut ny EP:s och fullängdare var det dags för The Coathangers att försöka göra en platta på ett lite annorlunda sätt.
Bimbo
5 farms
Crimson telephone
Hey buddy
Step back
Stranger danger
F the NRA
Memories
Last call
Stasher
Lithium
Efter att ha tagit en paus under en sommar samlades de återigen för att göra låtar till ett nytt album, men nu ville inte The Coathangers bara ta med sig det de gör på livescenen och spela in. De ville i stället lyfta fram bandmedlemmarnas individuella styrkor lite extra.
Så här säger sångerskan och gitarristen Julia Kugel om det nya The Coathangers:
I don''t care what our previous image was. That's not us now. I feel like this is an introduction to what we are now.
Då får vi ett uppdaterat sound från det här gänget. Det är givetvis fortfarande punk, men kanske att det är lite mer lekfullt samtidigt som det är mer genomarbetat.
Då finns det plats för Julia Kugel att göra melodiösa poplåtar, Stephanie Luke kan göra sina rocklåtar och Meredith Franco kör på post-punk. När trion sedan pusslar ihop allting så får vi plattan The devil you know – och förstaspåret Bimbo visar direkt hur bra det kan bli. Det är pop, det är rock och det är punk i en samma låt. Det är succé helt enkelt!
Plattan släpptes den 8 mars.