Odcult bjuder på hårdrock, men det är mer än så. Det är energifylld hårdrock med 1970-talsvibbar.
Nu är de högaktuella med den nya plattan Into the earth.
Ni släppte er debutplatta 2014. Vad har ni gjort sedan dess? Berätta!
– Efter att vi släppte första plattan Descending så har vi varit runt och gigat i Sverige och Tyskland. Under våren 2015 gjorde vi även ett singelsläpp samt video till låten Down och sedan började vi ganska kort därpå skriva låtar till Into the earth som vi sedan började spela in våren 2016. Det var sedan var en klar produkt under vintern 2016 så vi har tagit allt i ganska lugn takt.
– Efter det blev projektet att hitta ett skivbolag att jobba med för att släppa själva plattan. Vi fick ett par napp, men det var inga direkt självklara val som vi var sugna på. Sedan, under våren, var Christofer och Dennis i väg och jobbade på festivalen Nordic Noise i Danmark med Bullet och där fick de kontakt med Jonathan på Mighty Music. I en mejlkonversation senare gällande en p-bot så fick han pitchen om just Odcult, vilket resulterade i ett skivkontrakt.
– Efter detta har vi mest jobbat på musikvideos tillhörande ett par låtar från kommande album. Den första släpptes den 26 januari.
Vilka är det som bildar Odcult?
– Dennis Åhman, Christofer Fransson och André Svensson.
Om vi tar en titt i backspegeln. Hur startade egentligen allting med Odcult?
– Christofer fick den briljanta idén att dra i gång ett hårdrocksprojekt under namnet Odcult. Sedan frågade han Dennis och André, som han hade spelat med tillsammans i tidigare projekt, om de var sugna på att haka på. Svaret var så klart ett JA!
Alla har spelat i lite olika band sen tidigare. Det har varit allt från trallpunk till stoner.
Om jag har fattat det rätt så spelade ni i en del andra band innan Odcult och det var både punk- och rockband? Var det självklart hur Odcult skulle låta?
– Det stämmer bra! Alla har spelat i lite olika band sen tidigare. Det har varit allt från trallpunk till stoner. Helt självklart var det nog inte hur det skulle låta, men Christofer hade en vision och han hade redan skrivit låtarna S.O.L, Heavy rain, October och Controlfreak vilket blev låtar som sedan fick hamna på den första plattan.
Ni bjuder på energifylld hårdrock med en jäkla skön groove, men det är lite mer än så. Man får lite 1970-talsvibbar. Hur skulle ni själva beskriva er musik?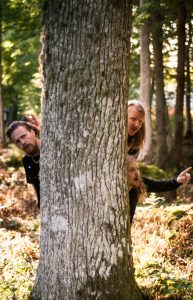 – Tack! Det är ju alltid svårt att beskriva sin egen musik, men visst ligger det en del 70-tal i allt. Vi har inte direkt siktat in oss på någon speciell genre utan allt har fallit sig ganska så naturligt och låtarna har bara tagit denna riktning. Överlag är vi ganska alternativa och är inte insnöade i någon speciell genre heller. Men vi är alla överens om att vi vill ha bra groove i låtarna och det ska kännas gött och opolerat.
Vad lyssnar ni på för någon musik själv just nu?
– Oj! Det är väldigt blandat. I spellistorna finns det allt från James Brown till Nasum. Just nu lyssnar Christofer på en blandning av Waylon Jennings och The Strokes, André är inne på Yelawolf och Coldplay. Dennis diggar som vanligt Cult Of Luna och Brody Dallés grejer är nice!
Det känns jävla kul att den uppskattas! Vi känner ju samma sak och är väldigt nöjda med resultatet!
Alltså, den här nya plattan, Into the earth, rockar fett! Vad kan ni säga om det?
– Vi tackar och bockar! Det känns jävla kul att den uppskattas! Vi känner ju samma sak och är väldigt nöjda med resultatet!
Om jag är lite elak och ber er att välja ut två låtar från plattan som har tio kanonspår, vilka skulle ni då välja?
– Ja, det är inte helt lätt alltså! Tidigare har vi nog favoriserat Luna, Unhallowed och No one gets out alive, men i dagsläget får vi nog sätta en ny topp 3:
Bleed for me
Turn to dust
Make them leave
Alla låtarna har ett speciellt gung i sig, en magi som är svår att sätta fingret på, men samtidigt är alla låtarna ganska olika i känslan när vi spelar dem. Så står man på en öde ö med bara tre låtar att lyssna på så kompletterar de varandra ganska så bra.
Själv har jag fastnat för No one gets out alive lite extra … Hur gick det till när ni gjorde den låten?
– "Coffe" visade riffen för Dennis, som i sin tur sa typ: "Så ska det låta!" Sen la vi trummor på låten och repade därefter in den. Projektnamnet på denna låt var Queens-låten så det kan vara så att Queens Of  The Stone Age fanns i Spotifylistan under denna period.
När började ni att arbeta på plattan? Hur lång tid tog det?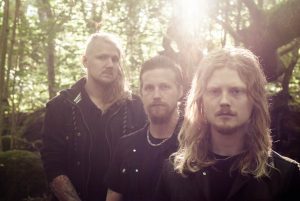 – Låtarna till skivan har trillat in lite pö om pö genom åren, men vi började med preprod i december 2015 och inspelningen drog vi i gång våren 2016 så vi nog lagt lite drygt ett år på den.
Hur går det till när ni gör en låt?
– I regel så skriver "Coffe" en låt, visar den för Dennis och sedan arrar vi upp den tillsammans.
Vad är skillnaden mellan debuten och ert nya album Into the earth?
– Into the earth är mer genomarbetad, har mer finess och ett mer "moget" sound.
Vilket ger den skönaste kicken, när man sätter punkt i studion efter att ha gjort ett album eller när man ställer sig upp på scenen för att spela live?
Scenen! Utan tvekan! Det är mer en lättnadskänsla när man lämnar studion och allt är färdigt.
André är en jävel på att dricka Red Bull och pyssla med choppers.
Vad finns det för dolda talanger, som inte har med musik att göra, i bandet?
Ptja … vi gör inte mycket annat än och håller på med musik, men Christofer är grym på att teckna och vara allmänt konstnärlig. Dennis är till vardags ljud och ljus-tekniker och driver en firma inom detta. André är en jävel på att dricka Red Bull och pyssla med choppers. Han driver en motorcykelförening.
Nämn tre album som man måste höra innan man dör!
Mighty Old – Hide from the hounds.
Red Hot Chili Peppers – Mother's milk.
Alice In Chains – Unplugged.
Vad är det svåraste arbetet med att göra en platta?
– Att få ihop tiden och behålla energin att gå i mål med hela allt. Det är ju mycket annat runt omkring som ska hinnas med såsom jobb och familj.
När känner man egentligen att man är klar med en låt?
– Svårt att säga. Det är olika för alla låtar. Oftast är det nog i just inspelningsfasen. När man har slängt på den där sista lilla slingan som lyfter upp nått parti, och man har en röd tråd genom låten.
Vilket är Ljungbys bästa rockband?
– Odcult så klart!
Hur kommer ni att fira albumsläppet?
– Det blir releasefest på Garvaren i Ljungby den 2 mars.
Vad har ni på gång efter releasen? Drar ni ut och spelar live?
– Japp, det är ut och spela som gäller. Det kommer även släppas en ny video under vårkanten. Och så är det dags att börja skriva lite nytt!
Odcult på Spotify: