Med Bonafide bjuder bjuder Pontus Snibb på röjarrock ur ett ölglasperspektiv.
Med Pontus Snibbs Wreck Of Blues blir det något helt annat – då blir det blues och bakom trummorna sitter hans far Håkan Nyberg.
Nu är de högaktuella med albumet Too late to die young.
Blues sågs lite över axeln på pappas 70-tal? Och engelska tolkningar som av Mayall och hans banduppsättningar fnös en del puritaner åt..?
Håkan: Jag kände inga bluespuritaner på 60-talet. Just John Mayall var den förste stora bluesidolen för mej. Från Mayall hittade jag bluesfolk från både USA och England, såsom Howlin Wolf, Taj Mahal, Elmore James, Fleetwood Mac, Alexis Korner med flera. 70-talet var inte så mycket ren blues. Då kom ju en ny era av bluesbaserad rock som Zeppelin, Little Feat med flera. En stor influens var och är fortfarande Mahavishnu Orchestra. "Fjellis" och jag lyssnade och försökte lära och förstå.
Kan inte mycket av progg ses som ett slags blues? Här ryms ju samhällskritik och personligt klagande i båda fall?
Håkan: Visst innehåller delar av proggen bluesbaserade låtar. Antagligen för att många från 50- och 60-talen är och var influerade av både jazz och blues.
Är det därför blues lever än? För att det finns en så klar koppling till vardagen?
Pontus: Bluesen spelas flitigt live, överallt i landet. Bluesjam där folk får chans att lira live, jazz- och bluesföreningar med mera. På livescenen är bluesen i allra högsta grad levande.
Det är en musikform som är lätt att ta till sig, till exempel jämfört med jazz.
Men oavsett vilket så har vi ju fått det "bättre", eller? Så vad gör blues relevant 2018?
Pontus: Det är en musikform som är lätt att ta till sig, till exempel jämfört med jazz. Folk förstår det enklare uttrycket som blues har. Jag tror att publiken kan känna in sig i musikerns "feeling" och skapa ännu mera sammanflätning mellan band och publik.
Trio-formatet? Fördelar och nackdelar?
Håkan: Trion lämnar mer utrymme för sound, improvisation, utrymme på scenen och mer deg. Det är helt enkelt en perfekt combo.
Pontus: Rent jam-mässigt är det en fördel för mig i och med att jag är det enda melodiinstrumentet. Det ger mycket friare tyglar. Samtidigt kräver det mer av alla inblandade. En gitarrist får ju täcka upp för till exempel en keyboarist och kompgitarrist. Man väljer och skriver låtar som passar formatet.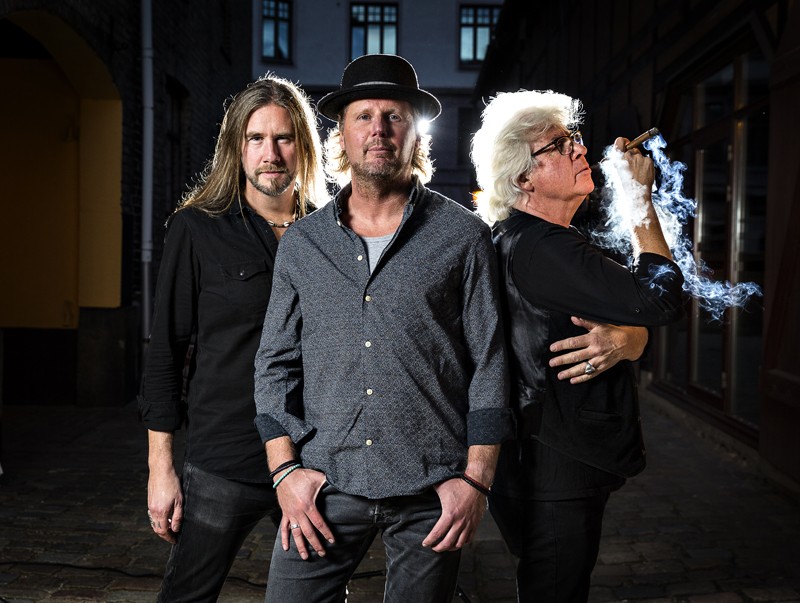 Göra plattor? Förr tittade man på försäljning. Nu kollar man Spotify/Itunes … skillnad för er som musikmakare?
Pontus: CD/vinyl säljs mest i "merchen" på spelställen nu för tiden. Spotify har tagit över skivaffärernas roll. Helt plötsligt sitter alla på världens största skivsamling. Det är såklart väldigt negativt inkomstmässigt för mig som låtskrivare, jämfört med när det såldes tusentals skivor i alla skivbutiker. Plusset är att alla har ens skivor via Spotify ifall de vill lyssna. Genererar det att någon sedan tar sig till en spelning så är det ju extra positivt.
Skivförsäljningen samt t-shirtförsäljningen hjälper till mycket på gig. Sedan får man tänka på att hålla ner kostnaderna.
Hur klarar man sig som musiker i dag? Färre spelställen och inte mycket musikföreningar, eller?
Pontus: Skivförsäljningen samt t-shirtförsäljningen hjälper till mycket på gig. Sedan får man tänka på att hålla ner kostnaderna. Vi åker ju bara tre man i personbil i Wreck Of Blues när vi är ute och spelar. Ljus, ljud och scentekniker finns på plats och betalas av ställena/föreningarna.
Vad är planerna? jag vet ju att ni har många stadigvarande projekt på gång. Är det jobbigt att koncentrera sig på det eller det?
Håkan: Välrepeterade repertoarer är inget problem att gå in i och fokusera. Det blir en grym sommar med Nationalteater-gig blandat med Wreck Of Blues.
Pontus: Vi gör vår första UK-turné i april, sedan blir det klubbspelande och festivaler under sommaren. Jag lirar ju med mitt rockband Bonafide massor också. Det är väldigt kul med variation och det sporrar inspirationen tycker jag. Efter en bluesturné vill jag lira lite rock igen och vice versa. Lite pusslande blir det och desto mer spelande. Vi fortsätter att spela för livet, som alltid. Med nytt fräscht material från nya plattan. Jag och Håkan har ju gjort cirka 2 000 gig tillsammans genom åren och många fler ska det bli!
Pontus Snibbs Wreck Of Blues på Spotify: