De psykedeliska bluesrockarna DeWolff är tillbaka med en ny liveplatta.
De är tillbaka med full styrka.
De ger oss Live & outta sight II.
4/5
Artist:
DEWOLFF
Album:
LIVE & OUTTA SIGHT II
År:
2019
Genre:
ROCK
Skivbolag:
MASCOT RECORDS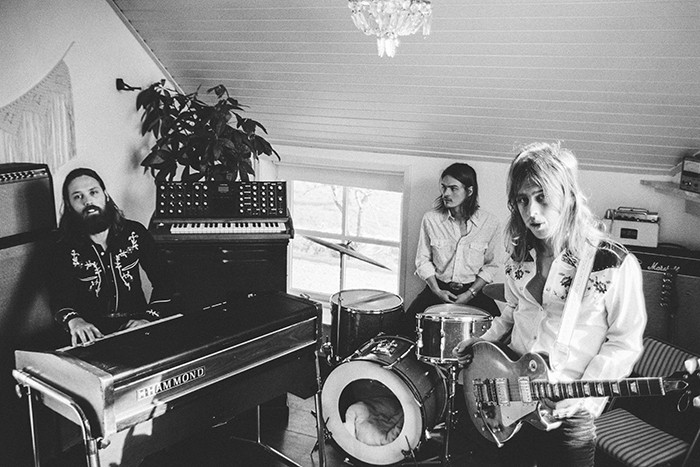 2018 släppte DeWolff det hyllade albumet Thrust där de bland annat fick ta emot Nederländersnas pris Edison Award för bästa rockalbum.
DeWolffe, som bildades i området Geleen 2007 av bröderna Pablo van de Poel (sång, gitarr) och Luka van de Poel (trummor) samt Hammond-organisten Robin Piso, gav också runt 100 konserter i 13 länder.
Och det är under den här tiden som Live & outta sight II är inspelad.
Låtarna spelades in 2018-2019 på DeWolffefest 1.5 på Tivoli i Utrecht den 29 december 2018, i den gamla teatern Luxor i Arnhem den 10 januari 2019, på Paard van Troje i Haag den 1 februari 2019 samt på EM2 i Groningen den 6 december 2018.
Big talk
Sugar moon
Medicine
Tombstone child
California burning
Deceit & woo
Share the ride
Tired of loving you
Outta step & ill at ease
Double crossing man
Love dimension
Många av låtarna är hämtade från thrust-plattan och då kan man räkna med att det blir bra. Här finns också klassiker som Medicine och Don't you go up the sky.
Man kan också räkna med att det blir extra bra när DeWolffes psykedeliska blues fungerar grymt bra live. Det är till och med bättre live än på ett studioalbum …
Så här säger Pablo van de Poel:
Så snart vi började lira låtarna från vår nya platta så började de leva sitt eget liv. Vi använde originalversionen som grund för att spela tillsammans och ha skoj men på något vis tog den oss alltid till en 2.0-version.
Och det är verkligen så. Det här gänget leker sig fram och man vet knappast vad de kommer att hitta på från låt till låt. Samtidigt glömmer de inte rötterna utan rockar på utav helvete! Dra bara i gång den över tio minuter långa Deceit & woo … där får du allting och lite till!
Topp tre? Big talk, Medicine och California burning.
DeWolffe är ute på turné nu och speldatumen ser ut så här:
15 juni, Retie Rockt, Retie, Belgen
25 juni, TivoliVredenburg, Utrecht, Nederländerna
21 juli, Zwarte Cross Festival, Lichtenvoorde, Nederländerna
2 augusti, Krach am Bach, Beelen, Tyskland
14 september, Raismes Festival, Raismes, Frankrike
Live & outta sight II släpptes den 14 juni.