Dropkick Murphys är ute på turné.
De har med sig Flogging Molly och Glen Matlock.
De bjuder på några kvällar som man inte lär glömma bort i första taget …
Först ut denna kväll (den 9 februari) i Valbyhallen i Köpenhamn var special guest Glen Matlock. Han är en av originalmedlemmarna i Sex Pistols, Matlock var basist, och han körde ett akustiskt set och bjöd på några de klassiska Pistols-låtarna som han var med och skrev.
Bland annat fick vi God save the queen. Det var ett stycke musikhistoria på scenen, men det var också en påminnelse om att tiden inte står still …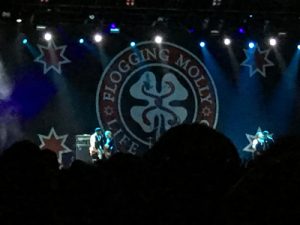 När det sedan var dags för Flogging Molly så blev det en magisk stämning. Det irländsk-amerikanska celticpunkbandet är löjligt bra live!
De radade upp sina superlåtar och det gick liksom inte att stå still. Det var både skuttigt och glatt. När man sedan fick höra en av de största favoriterna man har när det gäller all musik så var man mer än nöjd med kvällen redan då. If I ever leave this world alive heter låten …
Men Flogging Molly var bara en del av kvällen. Det var ju även huvudattraktionen Dropkick Murphys som skulle upp på scenen och när det amerikanska celticpunkbandet äntrade scenen så trillade det in ytterligare några tusen åskådare i hallen.
Herre jösses vad de drog på! Det var fullt ös, det var allsång och det var bara till att stampa med i takten.
Och det började direkt med The lonesome boatman, The state of Massachusetts och
Famous for nothing.
Sedan fick vi även låtar som Rebels with a cause, Going out in style, Blood, First class loser, Rose tattoo och Johnny, I hardly knew ya. Ja, ni kan ju tänka er vilket drag det var …
Vi fick också Peg O' my heart som dedikerades till Ken Caseys mormor som gick bort strax före kvällens show. Vi fick också en snygg avslutning på kvällen med I'm shipping up to Boston, The boys are back och allsångspärlan Until the next time.
Det var en så bra kväll att en ännu icke namngiven West Bromwich-supporter stod och sjöng med i Liverpool-hymnen You'll never walk alone …
Dropkick Murphys setlist:
The lonesome boatman
The state of Massachusetts
Famous for nothing
I had a hat
Rebels with a cause
Going out in style
Buried alive
Blood
Time to go
First class loser
Johnny, I hardly knew ya
Rose tattoo
Sunday hardcore matinee
The outcast
Captain Kelly's kitchen
Prisoner's song
Peg O' my heart
You'll never walk alone
Out of our heads
Caught in a jar
The hardest mile
I'm shipping up to Boston
The boys are back
Until the next time