1985 dök det upp ett nytt band som släppte sin självbetitlade EP: Helloween.
Nu är metalbandet pånyttfött och släpper årets kanske mest efterlängtade platta: Helloween.
5/5
Artist
HELLOWEEN
Albumtitel
HELLOWEEN
År:
2021
Genre:
POWER METAL
Skivbolag:
NUCLEAR BLAST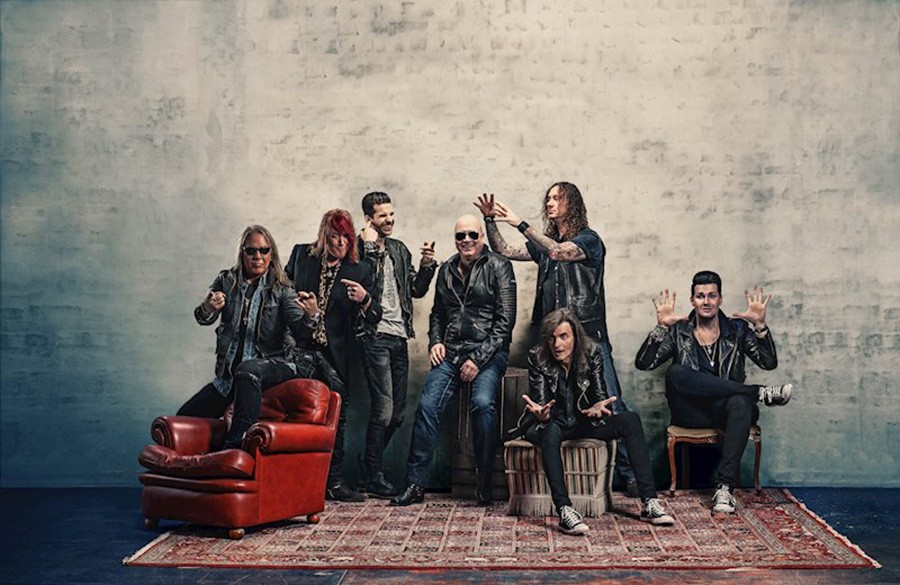 Det är lite häftigt att få höra när det gamla Helloween möter det nya. För det är ju det vi får 2021.
När Helloween bildades 1984 bestod line-upen av sångaren och gitarristen Kai Hansen, bassisten Markus Grosskopf, gitarristen Michael Weikath och trummisen Ingo Schwichtenberg. Sedan kom även sångaren Michael Kiske in i bandet och Hansen kunde fokusera på rollen som gitarrist.
Sedan började det bli lite rörigt. Hansen lämnade och Roland Grapow kom in. Schwichtenberg och Kiske försvann och ersattes av Uli Kusch och Andi Deris.
Det stannande inte ens där …
Men 2016 kom bomben. Hansen och Kiske var tillbaka i Helloween för att göra Pumpkins united world tour och den där återföreningen har hållit sig. Vi har alltså Hansen, Kiske och Deris tillsammans!
Nu kommer Helloweens 16:e studioalbum.
Walls of Jericho (1985)
Keeper of the seven keys: Part I (1987)
Keeper of the seven keys: Part II (1988)
Pink bubbles go ape (1991)
Chameleon (1993)
Master of the rings (1994)
The time of the oath (1996)
Better than raw (1998)
The dark ride (2000)
Rabbit don't come easy (2003)
Keeper of the seven keys: The legacy (2005)
Gambling with the devil (2007)
7 sinners (2010)
Straight out of hell (2013)
My God-given right (2015)
Helloween (2021)
På Helloween blir det tolv låtar där Kai Hansen, Michael Kiske och Andi Deris alla – även om det är Kiske som mest står i centrum – delar på sången och alla tre har ju tidigare varit sångare i bandet. Bara en sån sak liksom.
Här finns också tre gitarrister i Kai Hansen, Michael Weikath och Sascha Gerstner. Om det blir för mycket? Nej, nej, nej.
Out for the glory
Fear of the fallen
Best time
Mass pollution
Angels
Rise without chains
Indestructible
Robot king
Cyanide
Down in the dumps
Orbit
Skyfall
Det är en urstark platta och den som har gått och väntat på denna kan känna sig mer än nöjda. Det är Helloween snabba och tunga power metal som är så brutalt skön.
Det känns dock lite som om Deris har tagit ett halvt kliv tillbaka och det är mest Kiske och Hansen som får briljera. Fast det gör ingenting. De komplementarar varandra skitbra.
The whole process, including the spirit, was just ideal. If I had the feeling that one of the parts would not be really fitting, I asked Andi if he would sing it and vice versa. There was no competition whatsoever – what counted was what is best for the respective song. I am thankful to be (again) a part of this crazy family. I love them all.

Michael Kiske
Det låter kalasbra för det är tungt och melodiskt samtidigt som det är vassa melodier och refränger – och man blir påmind en hel del om det som Helloween gjorde på 1980-talet.
Det är en ganska massiv platta med 14 låtar. Det är dessutom några sex-sju minuter långa. Här finns även den episka Skyfall – där det verkligen känns som om det gamla Helloween möter det nya – som snurrar på i över tolv minuter! Det där blir inte alltd så bra när det är så långa låtar, men här märker man inte ens att låten bara kör på.
Topp tre? Det beror väl helt och hållet på vad man vill ha för stunden. Det går dock inte att komma ifrån att Skyfall är löjligt bra.
Best time sticker ut eftersom den låter lite annorlunda – det än nästan lite Billy Idol-känsla (?) i den innan det blir Helloween-material – och är en partylåt.
Mass pollution är tung och skön och Fear of the fallen börjar soft med en akustisk gitarr bara bli bådet tung och snabb. Robot king är så snabb att man nästan blir svettig av att höra den. Att de bara lyckas få det att låta så här bra … imponerande!
Vilken platta!
Helloween har gjort en av årets bästa metalalbum och gillar du det här gänget sedan tidigare så är det en "no brainer" att dra i gång detta.
Helloween
Michael Kiske (sång)
Kai Hansen (sång, gitarr)
Andi Deris (sång)
Michael Weikath (gitarr)
Sascha Gerstner (gitarr)
Markus Grosskopf (bas)
Daniel Löble (trummor)