Burn Down Hollywood är ett nytt tillskott på hårdrocksscenen.
Nu är det dags för det svensk-amerikanska bandet att skicka ut sin självbetitlade debut-EP.
4/5
Artist:
BURN DOWN HOLLYWOOD
Album:
BURN DOWN HOLLYWOOD (EP)
År:
2020
Genre:
ROCK, HÅRDROCK
Skivbolag:
BURN DOWN HOLLYWOOD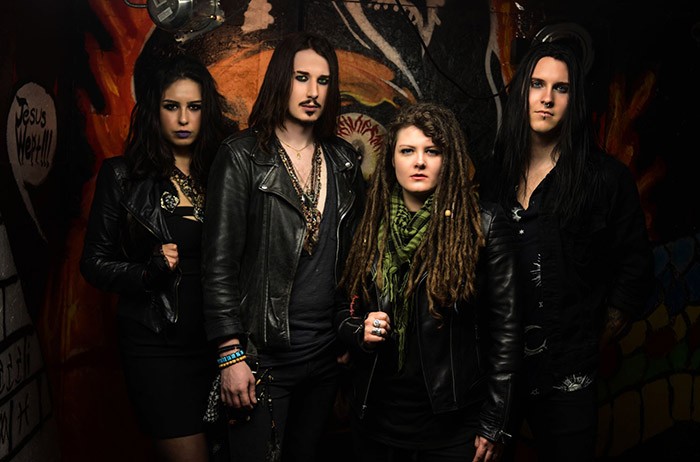 Los Angeles/Göteborgsbandet Burn Down Hollywood grundades i Los Angeles, Kalifornien, tidigare i år och det är ett samarbete mellan några erfarna musiker: Andreas Amnell (sångare, gitarrist, producent), Lisa Skyler (keyboards), Alexa Wolfe (bas) och Kristian Lindberg (trummor).
"Medlemmarna i Burn Down Hollywood har haft individuell framgång i musikbranschen och har samlat erfarenhet och kunskap över tid för att kunna använda vid denna tidpunkt så att de kan ta över undergroundscenen i Los Angeles." Det där går att läsa i pressutskicket inför EP-släppet och visst låter det bra i ett mejl?
Det där är dock inget tomt snack.
Burn Down Hollywood är redo för det – för den självbetitlade EP:n låter väldigt bra.
Burn Down Hollywood ger oss modern hårdrock. Den där retrohårdrocken som så många band gör numera får andra göra – även om de givetvis visar sin respekt för den klassiska rock 'n' roll-musiken. Burn Down Hollywood gör sin grej – och det blir sju spår på EP:n.
Welcome to Hollyweird
Burn down Hollywood
Pirate brother
The sun and the moon (Skyler's song)
Fairfax groove
Taste the riches
Sky away
Texterna ekar med livserfarenheter, sorg, sanning som omedelbart attraherar dina öron och tar dig till gatorna i Hollywood.
Det är småtung modern hårdrock där det givetvis finns plats för ett fett gitarrsound, men Andreas Amnell – som har skrivit och producerat skivan – glömmer inte bort de melodiska elementen. Burn Down Hollywood får verkligen till ett skönt sound.
EP:n inleds med introt Welcome to Hollyweird innan den smäller till med Burn down Hollywood och den smått lysande Pirate brother där de har lyckats trycka in ett orgelsound som lyfter allting.
Det är dock med fjärdespåret som man mest tänker "Waht the fuck?!" The sun and the moon (Skyler's song) är en lugnare sak och herre jösses vilken känsla Burn Down Hollywood gör den här låten med! Och gitarrsoundet! Gitarrsoundet! Det är sex minuter och 16 sekunder med örongodis!
Nästa gång man får den känslan är med sistaspåret. Balladen Shy away är en sådan där ballad som tar andan ur en. Soundet är återigen makalöst och detta är – i alla fall i min balladsamling – en framtida klassiker.
Burn Down Hollywood
Andreas Amnell (sång, gitarr)
Alexa Wolfe (bas, sång)
Lisa Skyler (keyboards)
Kristian Lindberg (trummor)