Svenska DG deklarerar rättframt: No bullshit. No ballads. Just pure heavy metal.
Jodå, det stämmer på pricken …
Sångaren Joakim Hermansson verkar uppfödd på småspik och diesel och påminner om Udo Dirkschneider i vissa stycken.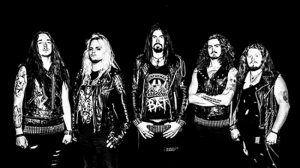 Det är en stark inledning på albumet i Killer machine och Tear down the wall. Och första finfina bockfoten visas oförblommerat i lysande To the devil.
Överraskande lätt rockabilly-anstrukna Alligator fuckhouse, med trumrullningar i ett starkt beat och där den elaka rösten skickar rysningar längs ryggraden, är ett spår som imponerar då bandet viker av lite med ökenhetta, sand och bara tequila att dricka.
Det är en stark rytmsektion och dubbel-gitarrister som gräver djupt i riff-påsen, märkt "Fräckt & hårt".
Plattan släpps i morgon den 12 april.