Brian Fallons Europaturné nådde till Dublin och Irland förra helgen.
Det var en Fallon i absolut högform och då blev det en kväll som man kommer att minnas länge.
5/5
Artist:
BRIAN FALLON & THE HOWLING WEATHER
Konsert:
EUROPEAN SPRING TOUR 2018
År:
2018
Genre:
ROCK
Brian Fallon är en stor favorit här hemma och den rockmusiken som han bjuder på är makalöst bra. När han nu är på turné har Fallon dessutom med sig Dave Hause som även han har några vassa plattor under bältet.
Den här lördagskvällen (den 10 mars) i Dublin, Irland, var det Hause som värmde upp publiken på Olympia Theatre i Temple Bar. Stället är ganska litet och kapaciteten ligger på någonstans runt 1 200 åskådare. Man kan jämföra stället med Koko i London fast Olympia Theatre är mindre och mer intimt. Det var precis som taxichauffören sade på vägen in från flygplatsen: "Det är som att ha dem sittandes här hos oss nu och spela. Det är perfekt för musik."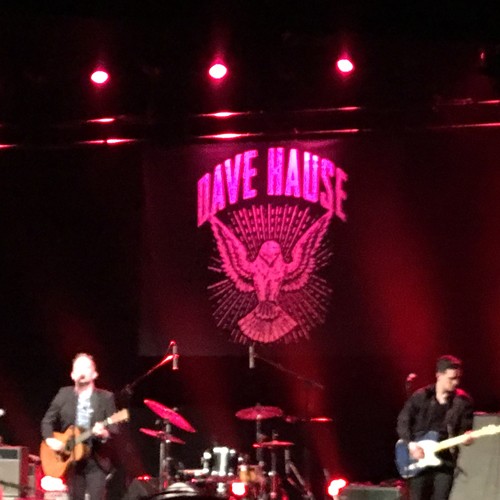 Hause såg till att publiken var på topphumör. Han skickade ut låtar som Shaky Jesus, The flinch, C'mon kid, Time will tell, Dirty fucker och Tom Pettys I won't back down. Redan där kändes det som om man hade fått valuta för pengarna … Det skulle dock komma så mycket mer!
Brian Fallon & The Howling Weather klev upp på scenen och fyrade direkt av Sleepwalkers, A wonderful life, Forget me not, If your prayers don't get to heaven och Come wander with me. Det var som om taket exploderade!
Irländarna verkar kunna sin musik och uppskattar onekligen Fallon lika mycket som en annan! Fast det där vara bara början.
Fallon har tidigare sagt att han inte vill spela The Gaslight Anthems låtar av respekt för de andra i bandet. Han höll det nästan. Ett av extranumren var The '59 sound och det var en mäktig allsång när Fallon körde en pianoversion av låten. Det var också en märkbart tagen Fallon som efter låten tog emot publikens jubel som nu hade nåt sin maxgräns. Det var bland det bästa som man har fått uppleva på en konsert …
Fallon har också haft en del sidoprojekt och han passade på att bjuda på två The Horrbile Crows-låtar: Ladykiller och Sugar. Han gav oss också två Molly And The Zombies-låtar: Red Lights och Smoke. Båda låtarna finns även med på soloplattan Painkillers. Vi fick också tre covers som var makalösa. Det var Tom Waits Cold cold ground, Dire Straits Sultans of swing samt kvällens sista låt, U2:s I still haven't found what I'm looking for.
Här kan nämnas att en person i mitt sällskap inte visste vart han skulle ta vägen när U2-låten drog i gång. För upp på scenen kom en artist som denne man trodde var Bono. "Fattar ni vad vi har varit med om? Fattar ni?!"
Det var nästan rätt. Det var Dave Hause … Hur som helst så gjorde de låten löjligt bra. Och det är väl så man kan beskriva kvällen bäst: Löjligt bra – för det här var bland det bästa som jag har sett. Någonsin.
Setlist:
Sleepwalkers
A wonderful life
Forget me not
If your prayers don't get to heaven
Come wander with me
Ladykiller
Cold cold ground
Neptune
Rosemary
My name is the night (Color me black)
Red lights
Sugar
Sultans of swing
Etta James
Watson
Smoke
Proof of life
The '59 sound
See you on the other side
I still haven't found what I'm looking for