Hårdrock som flörtar med 1960- och 1970-talet … kan det vara något? Jomenvisst!
Det är ju Black Ink River som är tillbaka med albumet Through the unknown.
4/5
Artist:
BLACK INK RIVER
Albumtitel:
THROUGH THE UNKNOWN
År:
2020
Genre:
HÅRDROCK
Skivbolag:
GMR MUSIC GROUP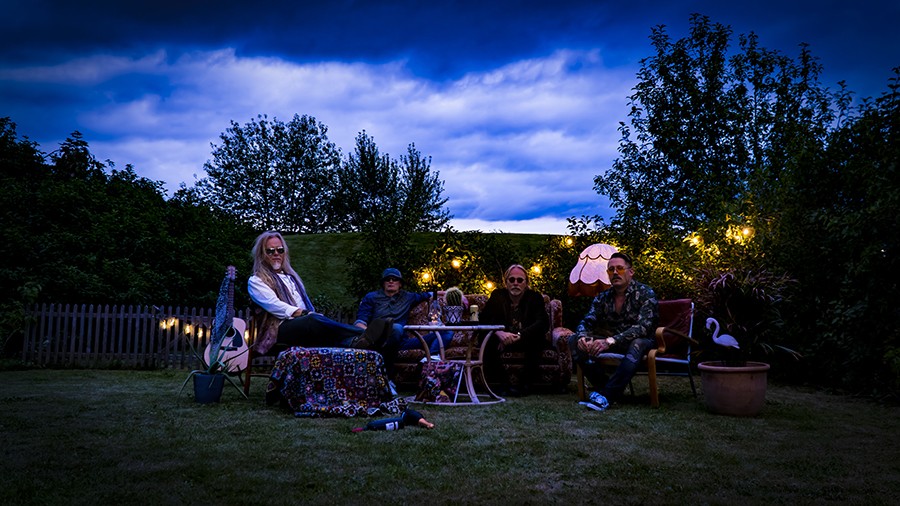 Black Ink River är hårdrocksbandet som bildades i Västerås 2016. Två år senare kom debutplattan Headstrong och med den i ryggen gav de sig ut på en del klubb- och festivalspelningar.
Nu är det alltså dags för Black Ink River att skicka ut album nummer två. Det blir ett intro, nio låtar plus två bonusspår på Through the unknown:
Through the unknown
Sulphur sky
No no no
Midnight cowboy
When I'm gone
Seabeast
Echoes in me
Fools are running the show
In a daze
I am fire
Wonderchild
Dementia
Sångaren Daniel Wahlström funderade på vad skivan skulle handla om, han ville skriva texter som hade någon slags röd tråd genom hela albumet. Han började skriva texter med filosofisk ton om existentiella tankar och frågor som bildade små sagor som fick bli skivans röda tråd.
När Black Ink River – där bandmedlemmarna har spridda bakgrunder där de har spelat allt från death metal och heavy metal till blues och reggae – gör sina låtar handlar det knappast om någon snabb tysk hårdrock eller någon heavy metal.
I stället är det catchig och bluesig vintage-hårdrock. Det blir ganska tungt och gitarriffen – plus att det blir ett orgelsound i flera av låtarna – avlöser varandra i de här låtarna.
Albumet inleds med introt Through the unknown innan singlarna Sulphur sky och No no no ta vid – och det är utan tvekan två starka låtar som Black Ink River redan före albumsläppet har gett oss.
Sulphur sky är en riktigt härligt fet rock 'n' roll-låt där det bjuds på allt från ett grymt gitarrlirande – vilket skönt solo! – till en groove som gör att hela rummet börjar gunga.
No no no kickar i gång med trummor och ett grymt skönt gitarrsolo. Sedan känns det som om hela rummet gungar i gång igen … det är ett jäkla skönt sound som Black Ink River återigen bjuder på. När sedan sångaren Daniel Wahlström drar i gång så är det bara till att bocka av en ny kanonlåt från det här Västeråsbandet samtidigt som man mest tänker no no no!
No no no är en låt som växer hela tiden och man vill bara ha mer och mer och mer. Sedan gör det ju absolut ingenting att det svänger som tusan. Det är en härligt fet rock 'n' roll-pärla.
En annan höjdare är When I'm gone som är en duett där Daniel Wahlström delar på sången tillsammans med Chasmin Marquez. Dessutom får vi såväl ett skönt orgelsound som ett härligt gitarrsound här. Att få allt det i samma låt … ja, det är balsam för själen!
Seabeast rockar som fan precis som I am fire och där tror man väl att plattan är över med tanke på att de två sista låtarna är bonusspår … det är det inte!
Här kommer i stället en av plattans absoluta höjdpunkter i Dementia som är över sju minuter lång. Låten är lugn och ämnet är allvarligt. Då blir det en mörk och känslosam låt där det där orgelsoundet lyfter allting tillsammans med det makalösa gitarrlirandet.
För den som vill nörda ned sig lite mer i plattan så kan det nämnas att den är inspelad i Wacka Playground i Västerås vilket är Roger Johannessens egna studio. Den är mixad av Nanni Johansson i Hansa Studios i Berlin och mastrad av Frida Claeson Johansson i Svenska Grammofonstudion i Göteborg.
Albumet släpps på fredag.
Black Ink River
Daniel Wahlström (sång)
Bosse Karlsson (gitarr)
Anders Modd (bas)
Roger Johannessen (trummor)