2017 EP-debuterade Maple & Rye med Nothing poetic.
Nu är det dags för indiefolkbandet från Göteborg att albumdebutera med Eldorado.
4/5
Artist:
MAPLE & RYE
Albumtitel:
FOR EVERYTHING
År:
2020
Genre:
INDIE, FOLK
Skivbolag:
ICONS CREATING EVIL ART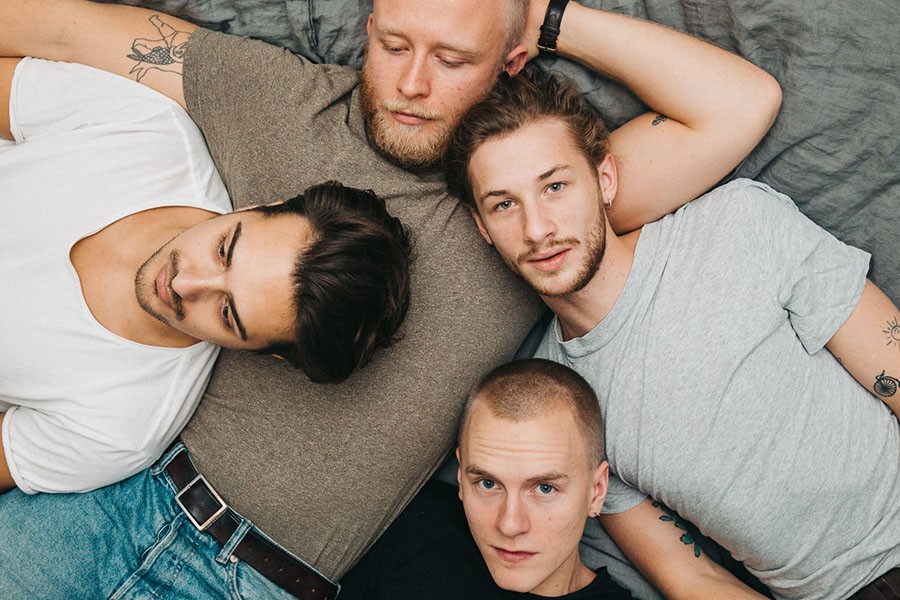 Under den senare delen av 2014 såddes de första fröna till ett nytt band av arbetskamraterna Gustav Rybo-Molin och Leo Lönnroth.
En akustisk duo föddes, men snart kom även Milton Lönnroth in på bas. Snart var det fyra medlemmar i bandet. Då hade även trummisen Henrik Bielsten anslutit till Göteborgsbandet som blev Maple & Rye sommaren 2016.
Och nu är det alltså dags för Maple & Rye att passera ännu en milstople på sin musikaliska resa då de släpper sin första fullängdare. Det blir tio låtar på For everything.
Monterey
Rebel's run
Lorelei
Leaving now
Pretoria
Con of the century
Cannonball
Eldorado
For everything
Albion
Man beskriver väl Maple & Rye enklast som Sveriges svar på det brittiska folkrockbandet Mumford & Sons. Helt klart så är det en jäkla massa sådana vibbar som Maple & Rye skickar ut i alla fall. Det är folkrock, indie och en del världsmusik som är ingredienserna i deras musik.
Och det låter bra! Om Mumford & Sons senaste platta var i lugnaste laget så blir det lite mer fart här – och det är mer än välkommet. Man vill liksom upp och hoppa när Maple & Rye får strömma ut ur högtalarna.
Det är just när det blir lite mer fart i låtarna som det låter bäst. Visst är det skönt med lite extra känslosamma låtar, men det är när det blir mer tryck i låtarna som man verkligen hoppar till – och det är så plattan börjar med Monterey. Visst, det är ingen toksnabb låt, men när den tar fart så blir det nästan rena rama aha-upplevelesen.
Rebel's run är en annan kanonlåt. Den är väl knappast snabb, men känslan och det mäktiga och storartade soundet göra att det fastnar snabbt. Och det finns fler låtar som man fastnar lite extra i: Lorelei, Con of the century, Pretoria, For everything och Eldorado. Helt klart så är det en stark debut från Maple & Rye.
Eldorado är en låt om naiv optimism. Den typen av optimism som strider mot all logik och förnuft, men på något sätt, i vissa individer, finner ett sätt att fortsätta existera.

Milton Lönnroth, Maple & Rye
Maple & Rye
Leo Lönnroth (gitarr, sång)
Gustav Rybo-Molin (gitarr, piano, sång)
Milton Lönnroth (bas, sång)
Henrik Bielsten (trummor)