När det kommer till min musiksmak är jag inte direkt ett barn av min tid – nyss 19 år fyllda dominerar alternativ rock och indierock mina spellistor, inte musik av samtida popstjärnor som Post Malone, Drake eller Billie Eilish. Med tiden har jag dock lärt mig att rock faktiskt var synonymt med pop en gång i tiden, och så som jag har förstått det hade just indierocken sin guldålder på 2000-talet ungefär; samtidigt som jag knappt hade lärt mig prata, typ.
Inte förrän 2015 blev jag bekant med själva begreppet för första gången – jag kom med andra ord rätt så sent till partyt, om man säger så. Kanske hade det rent utav redan slutat för länge sen.
Men jisses vilken guldgruva jag haft till mitt förfogande att utforska efter det. Jag började med mainstreambanden, typ The Killers, Arctic Monkeys och Kings Of Leon. Sedan har jag successivt grävt mig djupare ned bland mindre band och subgenrer. I mitt bibliotek på Spotify finns nu allt från shoegaze och postrock till dream pop och postpunk.
Men av någon anledning har jag hållit mig på den här sidan av millennieskiftet mestadels, vilket har inneburit att det mesta som släpptes innan år 2000 förblivit relativt outforskade områden på min musikaliska karta. Detta har tagit sig uttryck på rätt så dråpliga sätt – bland annat började jag godtyckligt fatta tycke för Greta van Fleet när de slog igenom, utan att veta att de enligt de flesta förståsigpåare tydligen mest låter som ett coverband av Led Zeppelin. Enligt samma mönster blev även en coverversion av There is a light that never goes out min första bekantskap med The Smiths – alltså dröjde det ett tag innan jag sökte mig till originalversionen. Det känns nästan lite pinsamt så här i efterhand.
Det leder oss in på vad den här texten i själva verket ska handla om, nämligen The Smiths klassiska album The queen is dead från 1986 som jag nu slutligen satt tänderna i efter alla dessa år. Syftet var just att se hur en sådan som jag – som alltså upplevt musikhistorien baklänges kan man säga – skulle uppleva en platta med en sådan dignitet som denna; en av de bästa indieplattorna genom tiderna kanske, rent utav.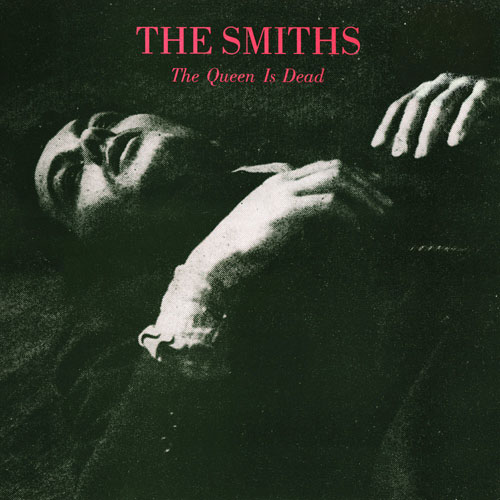 För mig framstår The queen is dead som en färgstark palett av kontraster.
Visserligen såg jag ju problematiken med att ta sig an ett sånt här album med så pass höga förväntningar, för risken finns ju att det i slutändan kan tyckas som om det bara finns ett enda rätt svar – det vill säga att plattan är fantastisk. Det är med andra ord lite psykologi över det här och för mitt inre har jag försökt vrida och vända på varenda åsikt, som för att försäkra mig om att ingen slags konfirmeringsbias ligger bakom någon av dem. Vad tycker jag egentligen, liksom?
Eller så borde jag kanske bara sluta med sånt här kvasiintellektuellt metagrubbleri och istället låta min intuition tala. För efter varje genomlyssning växer känslan sig bara starkare – jag tycker verkligen om det här albumet. För mig framstår The queen is dead som en färgstark palett av kontraster; det glada och det mörka, ironin och allvaret. Låtarna berör allt från melankoli, samhälls- och normkritik, humor, sarkasm och ångest – här finns allt känns det som. Och på något sätt känns Morrissey lika självklar och gedigen oavsett vilket uttryck han förmedlar; vare sig han gör narr av brittiska kungahuset på det inledande titelspåret eller våndas över utebliven kärlek på Never had no one ever.
Eftersom jag dessutom råkar vara en sucker för crescendon är just den låten en självklar favorit.
Mig berör han som mest på ballad-lika I know it's over, där Morrissey gång på gång frågar sig "Then why are you on your own tonight?" ackompanjerat av ödesmättade stråkar i bakgrunden. Eftersom jag dessutom råkar vara en sucker för crescendon är just den låten en självklar favorit. Men apropå favoriter är det förstås omöjligt att komma ifrån There is a light that never goes out som med sitt melankoliska patos och sin oslagbara melodi är så fruktansvärt jävla genomfin. Den där coverversionen jag hörde för några år sen kan med andra ord slänga sig i väggen.
För att förmildra bilden en aning blir jag, som har lärt mig att tycka om perfektionistiska produktioner av modernare snitt, kanske inte så väldigt hänförd av själva musiken alla gånger. Fast på så sätt känns det dock snarare som att det är mig det är fel på. I vilket fall älskar jag dock de feta basgångarna som löper albumet igenom, speciellt på Bigmouth strikes again (vars text för övrigt framstår som lite ironisk så här 30 år senare med tanke på vad Morrisseys stora käft slänger ur sig nuförtiden).
Avslutningsvis kan jag inte undgå att fundera över vad jag hade tyckt om albumet om jag hade varit 19 år gammal just 1986 när albumet släpptes. Det finns nog inget bra svar på den frågan för nu råkade jag alltså fylla 19 år 2020 i stället, men som den här texten antyder berör onekligen The queen is dead fortfarande – något som vittnar om hur tidlös den här plattan uppenbarligen är. Jag är med andra ord övertygad om att The queen is dead kommer beröra kommande generationers 19-åringar i minst lika hög grad.