Dolorifics släppte EP:n Excessive self pity 2016.
Nu är det dags att för fullängdsdebuten.
Vi får indierockpärlan Welcome to Dolograd.
4/5
Artist:
DOLORIFICS
Album:
WELCOME TO DOLOGRAD
År:
2020
Genre:
INDIE
Skivbolag:
NASTY CUT RECORDS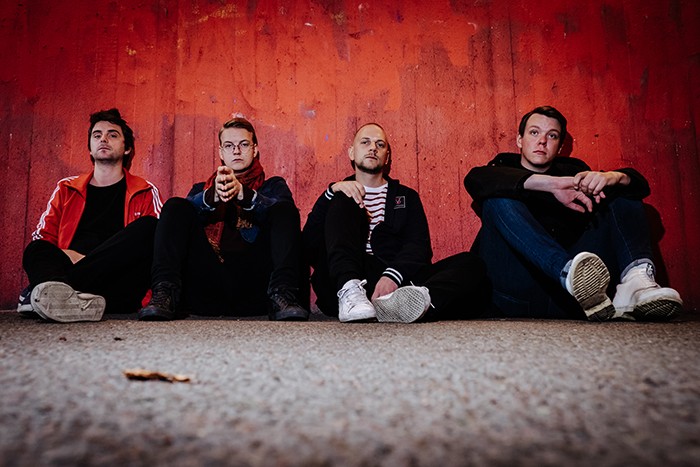 Erik Löfving och Christoffer Anderson har varit grundstommen i flera olika konstellationer och de har känt varandra sedan skoltiden, de har pluggat musik ihop, så otaliga musikprojekt har sprungit fram mellan dem.
Nu handlar det dock om Dolorifics där även bröderna Olle Mossberg och Kalle Mossberg finns med. De ger oss nu tio låtar:
Impossible
I live in shadow
Vermin
When you're not here with me
Black sheep
In my home
Last night I was someone
Oh, doctor
Don't let them in
Death song (Dead like you and me)
Så här säger bandet i ett pressutskick:
Efter många olika band och konstellationer så känns det som om vi hittat rätt med Dolorifics … Vi skiter i trender och hur saker "ska" låta i dag. Vi vill göra det vi verkligen själva gillar och spelar musik som vi själva skulle lyssna på.
Dolorifics bjuder på indierock där de knappast berättar några solskenshistorier. Det är mörkare texter och även ett lite mörkare och småstökigt indierocksound. Bara en låttitel som Death song (Dead like you and me) säger väl en hel del … Fast allt är givetvis inte nattsvart. Det känns friskt på något sätt också. Dessutom varierar sig Dolorifics en del i soundet. Vissa låtar lutar över åt indiepophållet.
Welcome to Dolograd kickar i gång med Impossible. Då bjuds det på ett ruskigt skönt gung. Det är varken den mest mörka eller den låt som har det mest stökiga gitarrsoundet. Det blir det mer av i I live in shadow.
Det är en imponerande start och man blir inte mindre imponerad efter att Vermin och When you're not here with me har gått i gång. Speciellt den sistnämnda är något alldeles extra. Den är ganska soft och Dolorifics sjunger "I don't wanna be there when you come down // I'm not alright // No, not this time" sedan kickar det där gitarrsoundet in och man är helsåld. Det är en makalöst bra låt.
Sedan fortsätter Dolorifics med att bjuda på bra låtar där de varierar sig en del. Black sheep är lite mörkare medan Oh, doctor känns nästan lite som The Cure eller The Smiths när de gör någon gladare låt.
Topp tre? When you're not here with me, Oh, doctor och Death song (Dead like you and me).
Welcome to Dolograd släpps i morgon den 24 januari.
Dolorifics
Erik Löfving (sång, gitarr)
Olle Mossberg (gitarr)
Kalle Mossberg (bas)
Christoffer Anderson (trummor)