Är det dags att dra i gång en riktigt skönt skitig rock 'n' roll-platta?
Då är det Dirty Rats-albumet Rock n roll som du ska låta dina högtalare få jobba ordentligt till.
4/5
Artist:
DIRTY RATS
Album:
ROCK N ROLL
År:
2019
Genre:
ROCK
Skivbolag:
SLIP TRICK RECORDS

Dirty Rats turnerade på pubar och klubbar runtom i Melbourne under 30 år. De gav sina spelningar i de skitigaste barerna du kan tänka dig, de gav sina spelningar i de tuffaste kvarteren och de gav sina spelningar där golven var dränkta av öl.
Någon platta släppte de dock inte, inte förrän 2018. Ett riktigt fett rockband – som man aldrig hade hört talas om tidigare – har äntligen släppt sitt debutalbum.
We started seriously writing and arranging for Rock n roll, around mid 2016. Most of the songs were arrangements we had been playing for years, gradually changing and adjusting them to our tastes as we went along.
Not alone
Suicide
Lowlife
When the money runs out
Notch in your belt
Everybody bleeds
Badman
Yesterdays hero
Rat town
Låtarna spelades in live där bandet hade inställningen att det skulle låta precis som om det var spelning. Då blir soundet ett ganska skitigt old school-hårdrock där man får vibbar från allt mellan AC/DC till Accept. Det är opolerat och äkta – och inte minst skitbra!
Topp tre? Lowlife, Suicide och Rat town.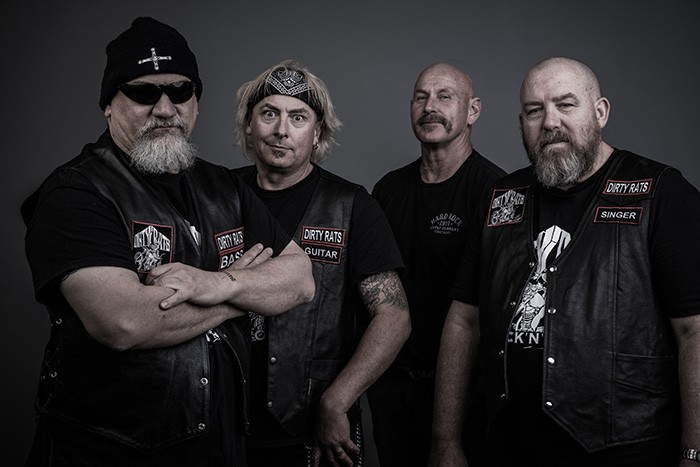 Så här säger bandet om de olika låtarna:
Not alone
– A story of family violence with a message of empowerment for those facing violence in relationships. The story is told from Wayne's experiences as a front line police officer and domestic violence survivor. An anthem for the downtrodden and oppressed. (Rich/Beovich)
Suicide
– From a dark time in our lives. We have all been there, when its too easy to drink and let the black dog run all over our yard. It's about climbing out of that deep dark hole and seeing that the sun is still shining. (Rich/Beovich)
Lowlife
– Ah relationships, who'd have em! If I died tomorrow, would you remember me. A story of unrequited love and feeling like a lowlife. (Beovich)
Rat Town
– The best part of of going to work is knowing that Friday night you get to go out and get on the piss with your mates, see a heap of your favourite bands and sing along at the top of your voice. Rocking out in Rat Town, it's what we do. (Rich/Beovich)
When the money runs out
– Some clown wanted to "help us make it" as a band. Turns out what he really wanted was to make some money for himself and none for us. This song is about arseholes like that. (Beovich)
Notch in your belt
– Have you ever had a relationships where you are madly in love, but they just want to be friends. Then they sleep with you, but "just as friends"? How crazy is that? Yeah, us too. (Beovich)
Everybody bleeds
– There was a "friend" of the band. Turned out he was a nutcase, mad as a cut snake. He made threats, went to the mad-house and we wrote a song. (Beovich)
Yesterdays hero
– Song was written by Harry Vanda and George Young, one of the best writing teams Australia has produced. No special story here, it's just a cracker of a song and we love it and wanted to record it. It's a cover, get over it. (Vanda/Young)
Bad man
– Jamie loves cowboy movies and cowboys, especially John Wayne, so he wrote a song about cowboys. That's about it really, cowboys and stuff. (Beovich)
Dirty Rats
Wayne Rich (sång)
Jamie Beovich (bas)
Anthony "Chooka" Chapple (gitarr)
Andy Thomson (trummor)