Det svenska sleazerockbandet Pretty Wild är tillbaka.
Fem år efter deras självbetitlade platta får vi Interstate 13 – och gissa om det här rockar?!
4/5
Artist:
PRETTY WILD
Album:
INTERSTATE 13
År:
2019
Genre:
ROCK
Skivbolag:
BLACK LODGE RECORDS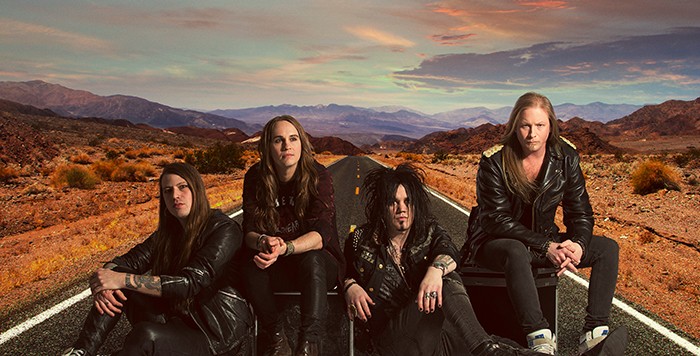 Historien om Pretty Wild startade 2006 i Malmö. Två år senare skickade de ut sin debutplatta och så här ser diskografin ut:
All the way (2009)
Pretty Wild (2014)
Interstate 13 (2019)
13 år efter starten ser det dock inte likadant ut i bandet. Det har varit en del förändringar i line-upen och numera är det Ivan "Ivve" Höglund, Axl Ludwig, Kim Chevelle och Johnny Benson som är Pretty Wild.
När de nu skickar ut Interstate 13 får vi tolv låtar – och det är tolv feta sleazerocklåtar som har ett sjuhelsikes gung.
Lets get it out
Ment for trouble
Superman
Wild and free
Give it all tonight
Stand my ground
The way I am
Thanks to you
Shot me down
Walk the edge
I love it
Break down the walls
Det är välgjort och melodiöst. Dessutom kan det kännas – med vissa låtar – småtungt. Det blir liksom varken för tungt eller för soft. Pretty Wild ligger helt rätt.
Dessutom är det sylvassa refränger och läckra gitarriff. Det är attityd och det är energiskt som fan – och man kommer snart på sig själv att sitta och småflina. Det här är bra alltså!
Det går knappast att ifrågasätta att det är Pretty Wild som är Sveriges sleazeband nummer ett efter den här plattan ….
Topp tre? Jomentjena! Det här är ett urstarkt album som håller en jämn hög nivå. Det känns omöjligt att välja ut tre spår, men det får bli Wild and free, Give it all tonight och Meant for trouble.
Interstate 13 släpptes den 31 maj.