Vad får du om du blandar KISS, Def Leppard och Ozzy Osbourne?
Tja, kanske Starmen?
Hårdrocksbandet släpper nu plattan Welcome to my world.
4/5
Artist:
STARMEN
Album:
WELCOME TO MY WORLD
År:
2020
Genre:
ROCK
Skivbolag:
MELODIC PASSION RECORDS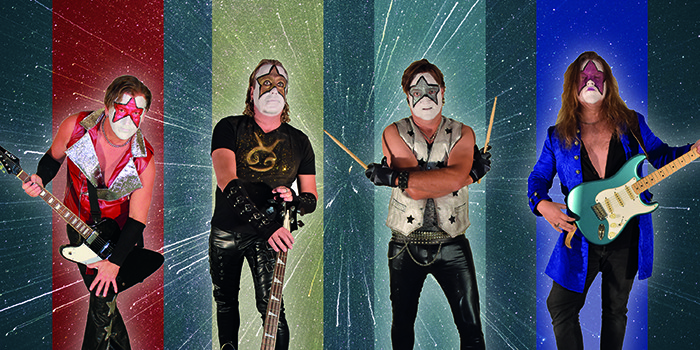 Starmen bildades under 2018 och tanken var att de ville göra en platta som hyllade alla de gamla rock 'n' roll-hjältarna som KISS, Whitesnake, Def Leppard och så vidare.
När Starmen började med det så växte det dock lite till. Det blev mer än hyllningslåtar när Starmen hittade sin egen musikstil. Och ja, det blev mer än en musikstil. Bandmedlemmarna bär smink när de lirar live och alla har de sin egen färg. Det är silver, guld, röd och lila. Smink. Då tänker man givetvis KISS – och det är inte helt fel när man hör debutplattan Welcome to my world …
Dreaming
Face the truth
Ready to give me your love
Stay the night
Warrior
Freewheelin'
Evil
Welcome to my world
Mayday
R.I.P
Mission man
Electrified
Alltså, detta är bra! Nu ska man ju inte vara sådan, men den första tanken med nåt sminkat band från Sverige blir ju "ett tråkigt coverband som inte kan göra något eget." Jag vet, det är skitdåligt att ens tänka så och dra bedrövliga förhastade slutsatser.
Fast man blir ju desto gladare när plattan snurrar i gång för Starmens debutplatta låter skitbra!
Det låter det en del KISS över det hela, men man får även Whitesnake-vibbar. Ja, man får vibbar från flera klassiska hårdrocksband från 1970- och 1980-talet. Starmen ger oss old school-melodisk hårdrock/glamrock och det är rena giftet. Det går liksom inte att skaka av sig detta när plattan väl har kickat i gång med Dreaming. Det är lite som ett slag i ansiktet.
Face the truth tar vid och det bjuds på snuskigt sköna gitarriff och KISS-vibbarna är mer eller mindre bortblåsta. Det känns tyngre nu. Ready to give me you love är även den lite annorlunda. Plötsligt får man en del ZZ Topp-vibbar i det hela – och det är väl självklart att det fungerar det också.
Med Stay the night lugnar Starmen ned det hela och ger oss en ballad. Det är dock bara tillfälligt som det är lugnt. Starmen fyller snart på med bensin och skickar ut Warrior och Freewheelin'. Båda låter hur bra som helst. Warrior får en att börja tänka lite på The Night Flight Orchestra.
Det är en stark platta och det finns ingenting att inte gilla med den. Så enkelt är det. Dra bara i gång titelspåret Welcome to my world. Det låter hur mycket KISS som helst och det låter alldeles lysande.
En låt till måste nämnas: R.I.P. Den låter inte som någon annan låt på albumet. Det är mer blues än de andra låtarna och stundtals blir sången annorlunda. Ja, det fungerar hur bra som helst det också. Fast sedan har vi ju Mission man också … strålande! Vilken grym platta!
Topp tre? Welcome to my world, Ready to give me your love och Mission man … och Warrior.
Starmen-medlemmarna får presentera sig själva så smått. Så här står det i pressutskicket inför albumsläppet:
Starmen Purple (Andreas Lindgren)
(gitarr, sång)
Lindgren är en äkta gitarrhjälte som gillar klassiska gitarrhjältar som Eddie Van Halen, Yngwie Malmsteen och Ritchie Blackmore. Han har också sitt eget band Requiem.
Starmen Silver (Marcus Sjöblom)
(trummor, sång)
Sjöblom har tidigare spelat i grupper som Cleopatra och Unzip. Han är fortfarande aktiv i Stolen Mondays och Kissed.
Starmen Red (Kristian Hermanson)
(gitarr, sång)
Hermanson har nyligen funnits med i band som Cleopatra, Friends och Poodles. Han är aktiv i Kristian Hermanson och Kissed.
Starmen Gold (Örjan Wahlström)
(bas, sång)
Wahlström har nyligen varit med i band som Cleopatra och Highland. Han är aktiv i Kissed.
Welcome to my world släpptes den 21 februari.