Det har gått fem år sedan Dare gav oss det härliga albumet Sacred ground.
Nu är de tillbaka – och de är tillbaka med ett brutalt bra album.
5/5
Artist:
DARE
Albumtitel:
ROAD TO EDEN
År:
2022
Genre:
AOR
Skivbolag:
LEGEND RECORDS

Dare är det brittiska AOR-bandet som bildades 1985 av den förre Thin Lizzy-medlemmen Darren Wharton. Två år senaere släppte de debutalbumet Out of the silence som än i dag är en fantastiskt fin platta.
Sedan har Dare – som har kultstatus bland AOR-fansen – skickat ut finfina plattor med ojämna mellanrum. De är inte direkt ett band som har sprutat ut sig album genom åren utan fansen har mest fått sukta efter ny musik.
De gav oss Out of the silence II 2018, men det var en remake av debutalbumet så det handlade inte om några nya låtar. Annars var det med Sacred ground för fem år sedan som det kom lite nytt med Dare.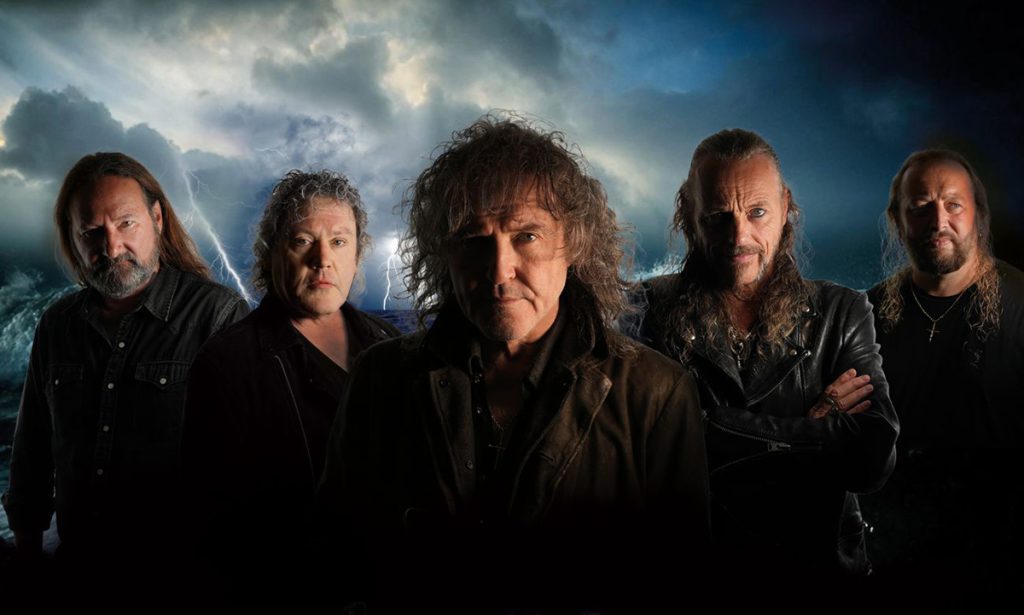 Out of the silence (1988)
Blood from stone (1991)
Calm before the storm (1998)
Belief (2001)
Beneath the shining water (2004)
Arc of the dawn (2009)
Calm before the storm 2 (2012)
Sacred ground (2016)
Out of the silence II (2018)
Road To Eden (2022)
Nu är de tillbaka – och som de är tillbaka! Road to Eden är en mästerlig platta! Det är en platta som kan mäta sig med debuten Out of the silence … jo, det är faktiskt så.
Born in the storm
Cradle to the grave
Fire never fades
Road to Eden
Lovers and friends
Only the good die young
Grace
I always will
The devil rides tonight
Thy kingdom come
Albumet inleds med den härliga singeln Born in the storm och då vet man direkt att Dare inte har skiftat fokus. De kör vidare på det som de har gjort från starten. Det är soft AOR, lättlyssnad mjukrock och låtarna är stöpta i samma gamla form – och det gör absolut ingenting.
När Cradle to the grave går i gång så rör sig nackhåret. Här har Dare kastat in lite U2-gitarrer och det är märkligt hur svag man kan var för det. Det blir dessutom lite celtic-känsla över det hela … hela låten är fan mästerlig!
Den som hade hoppats på ett tyngre Dare kan glömma det. Det är soft AOR hela vägen även om en låt som Fire never fades har tendenser att bli tyngre så faller den tillbaka och blir till Dares klassiska sound.
Det bara fortsätter med grymma låtar, som har Dares hjärta och själ, där titelspåret Road to Eden är rakt igenom mästerlig. Det är återigen lite celtic-känsla när Darren Wharton & company bjuder på en känslosam låt som kryddas med ett härligt gitarrsolo av Vinny Burns.
Nu är kanske inte detta en platta som man kickar i gång för att man ska få fart i benen, men ta mig tusan vilken känsla Dare har i sina låtar. Lyssna på Lovers and friends och njut för det är så man blir tårögd … eller ta Only the good die young med det snygga pianoklinkandet … eller ta Grace för den delen.
Dare rundar av plattan med I always will, The devil rides tonight och Thy kingdom come och vet ni vad. Det är örongodis hela vägen. Det är Dare.
Topp tre … får bli topp fem! Cradle to the grave, Road to Eden, Thy kingdom come, I always will och Lovers and friends.
Dare
Darren Wharton (sång, keyboard)
Vinny Burns (gitarr)
Marc Roberts (keyboard)
Nigel Clutterbuck (bas)
Kevin Whitehead (trummor)