1988 släppte Dare ett av tidernas bästa rockalbum, Out of the silence.
30 år senare skickar de ut en nyinspelning av plattan: Out of the silence II.
Dare är förmodligen mest känt på grund av Darren Wharton som under 1980-talet spelade keyboards i det legendariska bandet Thin Lizzy. När Phil Lynott lade ned bandet 1984 valde Wharton att bilda Dare i Oldhamn, England.
Några år senare släppte Dare sitt debutalbum och det är ingenting annat än en klassiker.
1994 återbildades Thin Lizzy och Wharton var tillbaka, men år 2000 lämnade han bandet för att satsa på Dare.
Så här ser Dares makalösa diskografi ut:
Out of the silence (1988)
Blood from stone (1991)
Calm before the storm (1998)
Belief (2001)
Beneath the shining water (2004)
Arc of the dawn (2009)
Calm before the storm 2 (2012)
Sacred ground (2016)
Out of the silence II (2018)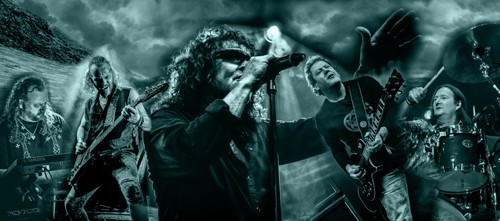 Originalversionen av Out of the silence är en platta som inte har ett svagt spår och det är det bästa AOR/melodiösa hårdrocksalbumet som har gjorts. Någonsin.
Abandon
Into the fire
Nothing is stonger than love
Runaway
Under the sun
Raindance
King of spades
Heartbreaker
Return the heart
Don't let go
Då kan man ju undra varför man gör en remake av det … Dare gör det för sina fans – och så läste jag någonstans att de vill ha tillbaka sina låtar som ett annat skivbolag har rättigheterna till. Om det stämmer låter jag vara osagt.
Visst låter även låtarna på Out of the silence II suveränt bra och av bandmedlemmarna från 1988 är det bara Darren Wharton och Vinny Burns som finns kvar. Fast med det kommer man ganska långt och en lite upphottad produktion – även om det inte var det minsta fel på den första – gör att många låtar får en ännu snyggare kostym.
Dare (Darren Wharton, Vinnie Burns, Kev Whitehead, Marc Roberts och Nigel Clutterbuck) gör verkligen de gamla låtarna rättvisa. Det är precis som Wharton har sagt, låtarna har fått ett nytt liv.
Några av de nya versionerna känns lite, lite rockigare och lite fräschare än originalversionerna – även om mycket är sig likt. Den här jubileumsutgåvan är ruggigt bra!