30 år efter starten är Diamond Dogs tillbaka med en ny platta.
Och då sparar de inte på krutet utan skickar ut 24 låtar på Slap bang blue rendezvous.
4/5
Artist:
DIAMOND DOGS
Albumtitel:
SLAP BANG BLUE RENDEZVOUS
År:
2021
Genre:
ROCK
Skivbolag:
WILD KINGDOM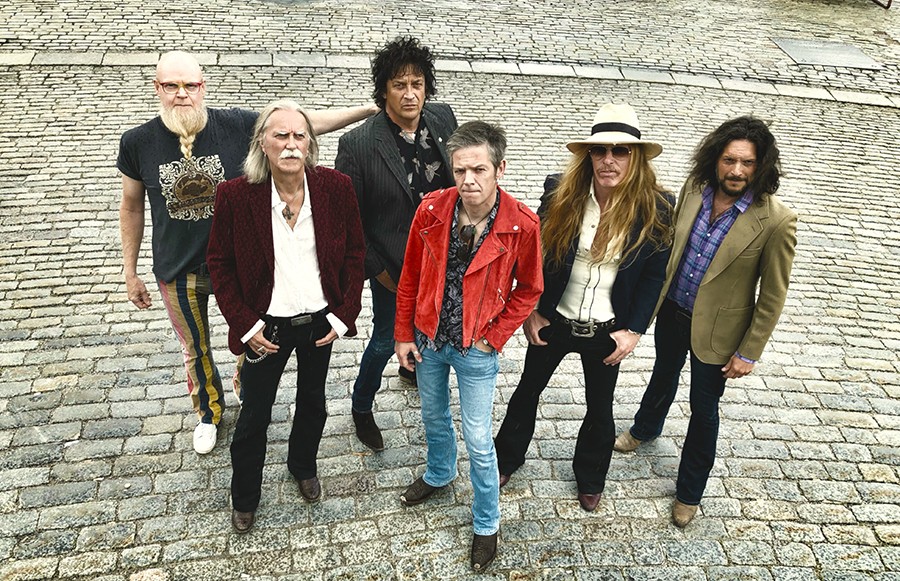 Det var 1991 som Sulo Karlsson, Boba Lindström och The Duke of Honk startade Diamond Dogs i Katrineholm. De flyttade dock snart till Stockholm och släppte sedan debutsingeln Blue eyes shouldn't be cryin' 1993 och senare kom även debutalbumet Honked.
Efter det har Diamond Dogs släppt ett helt gäng med finfina album. 2015 valde dock bandet att lägga ned. Året innan hade Mats "Magic" Gunnarsson gått bort och övriga bandmedlemmar ville hedra honom med ytterligare en skiva, Quitters & complainers, och ytterligare en turné. De gjorde sin sista spelning i oktober 2015 när de öppnade för Iggy Pop i Spanien.
Sulo Karlsson gick vidare och bildade The Crunch tillsammans med Terry Chimes (The Clash), Dave Tregunna (Sham 69) och Mick Geggus (Cockney Rejects) som har gjort en hel del suveräna låtar.
Fast Karlsson hade inte glömt bort Diamond Dogs helt och hållet – och 2019 var bandet tillbaka med albumet Recall rock'n'roll & the magic soul.
Och nu är det alltså dags för Diamond Dogs att fira att det var 30 år sedan de bildades och två av de tre grundarna finns fortfarande kvar: Sulo Karlsson och The Duke of Honk.
I en tid då många artister och band tycker att det är en bra idé att släppa EP-skivor väjer Diamonda Dogs att släppa en dubbelplatta med 24 låtar! Det är bara till att bocka och buga. Diamond Dogs gör helt rätt! En EP är mest en irriterande aptitretare … Här får vi både förrätt, huvudrätt, efterrätt och ett par sängfösare – och det är ta mig tusan alldeles underbart!
Alright Brutus I'm on
What if I knocked
Everything's fine
Rocked, wrecked, robbed and ruined
You got a diamond in me
A rock in the sea
You shouldn't be lonley on a Saturday night
Make up boogie
Ghost pain of your love
Golden wheel
Get me out
Slap bang blue
Queen of the milky way
Rock it and roll it
Toxic daydream
Common form of life
Rocket ricochet
Sunday haze
Run through the wildfire
Suicidal idol
Anyway I can make her smile
Vanity villains
Lose to get by
Blind broke patron saint
Även om Diamond Dogs är en svensk grupp så låter de dock knappast som svensk rock 'n' roll. Diamond Dogs låter mer brittiskt än mågaa brittiska band … Diamond Dogs ger oss klassisk äkta rock 'n' roll. De har kvar känslan från 1970-talets glamrockera och de har beskrivits som Faces möter det klassiska The Rolling Stones samtidigt som man kastar in lite The Kinks i det – och det är lätt att köpa den beskrivningen.
Om någon nu skulle tänka "24 låtar betyder en jävla massa fyllnadsmaterial", ja då har du inte hört albumet – för trots att det är en massiv platta så finns det absolut ingen småsur mellanmjölk här. Det är en jämn platta och det är jävligt bra låtar hela vägen där Sulo Karlsson visar vilken bra låtskrivare han är – dessutom ligger han inne med den där perfekta lite whiskeyhesa rock 'n' roll-rösten och då kan han briljera tillsammans med hela bandet.
Diamond Dogs ger oss hela spektrumet. Det klassiska rock-nummer och det är mer bluesiga nummer. Det finns lite extra mycket soulkänsla i någon låt och det finns någon låt där Diamond Dogs väljer det akustiska spåret.
Det finns lite lugnare nummer och det finns ballader. Det finns liksom något för alla här – och då blir det en riktigt stark platta.
Topp tre? Det känns rätt löjligt att ens försöka ge sig på det … det känns verkligen som att det man gillar bäst just nu kommer inte att vara samma låtar om 14 dagar – och dessutom är det riktigt fina låtar hela vägen.
Ja, ja … här och nu blir det topp fem: What if I knocked, Get me out, Alright Brutus I'm on, Ghost pain of your love och Common form of life … och Blind broke patron saint.
Diamond Dogs
Sulo Karlsson (sång, gitarr)
The Duke of Honk (keyboards)
Lars Karlsson (gitarr)
Slim Martin (gitarr)
Bellan Bellnas (bas)
Frederico De Costa (trummor)