Här har ni en punkplatta som går lite i spåren av The Menzingers.
Mycket mer än så behövs inte för att Spanish Love Songs platta Brave faces everyone ska vara en utmanare för att bli årets platta 2020 …
5/5
Artist:
SPANISH LOVE SONGS
Album:
BRAVE FACES EVERYONE
År:
2020
Genre:
PUNK
Skivbolag:
PURE NOISE RECORDS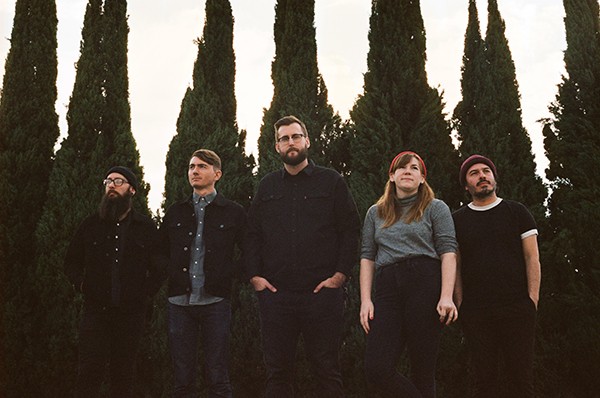 Det Los Angeles-baserade punkbandet släpper nu sin fjärde fullängdare. Ja, det kanske är den tredje plattan beroende på hur man ser på Giants sings the blues och Little giants …
Giants sings the blues (2015)
Little giants (2016)
Schmaltz (2018)
Brave faces everyone (2020)
Spanish Love Songs har varit ett spännande band sedan man hörde dem för första gången för några år sedan. Det har dock inte velat ta fart riktigt. Något har liksom saknats för att man ska ta det till sig ordentligt.
Det gör det inte längre för vilka låtar vi får på Brave faces everyone!
Routine pain
Self-destruction
Generation loss
Kick
Beach front property
Losers
Optimism
Losers 2
Dolores
Brave faces, everyone
Spanish Love Songs påminner en del om The Menzingers och Against Me! – även om detta gänget är betydligt mer poppunk – och då är mer än halva segern vunnen. Lite så är det i min bok. Om jag är färgad? Absolut!
Det släpps inte så jäkla många plattor i denna genre så när en platta med alternativ rock med punkvibbar släpps så man blir mest nöjd varje gång man hittar den. Här är det dock lite tvärtom. Här är det mer poppunk som lutar över åt indierock/alternativa rock-hållet. Det duger gott. Det duger mer än gott för de här låtarna som Spanish Love Songs skickar ut är smått makalösa!
Hela albumet är fullmatat med suveräna låtar som är poppunk/indierock. Det är liksom bara toppar och då blir det svårt att hitta favoriter. Allt är så jävla bra att det är svårt att hitta något som sticker ut ytterligare speciellt med tanke på att texterna är långt ifrån strålande glada …
Så här säger sångaren och gitarristen Dylan Slocum:
These are songs about looking outward and finding that, for all our differences, most of us are just trying to get by as the world is going to hell around us. We don't have any grand ambitions beyond that — we just want people to feel acknowledged. There's comfort in knowing we're on the same sinking ship.
Topp fem? Generation loss, Losers, Kick, Routine pain och Beach front property. Fast hela plattan är grym. Det känns bara fel att välja ur några låtar …
Spanish Love Songs
Dylan Slocum (sång, gitarr)
Kyle McAulay (gitarr)
Trevor Dietrich (bas)
Meredith Van Woert (keyboards)
Ruben Duarte (trummor)