Varför inte testa lite psykedelisk shoegaze/postpunk från Österrike och Wien?
Då är det The Happy Suns självbetitlade platta du ska dra igång.
4/5
Artist:
THE HAPPY SUN
Album:
THE HAPPY SUN
År:
2019
Genre:
ROCK, ALTERNATIVE
Skivbolag:
NOISE APPEAL RECORDS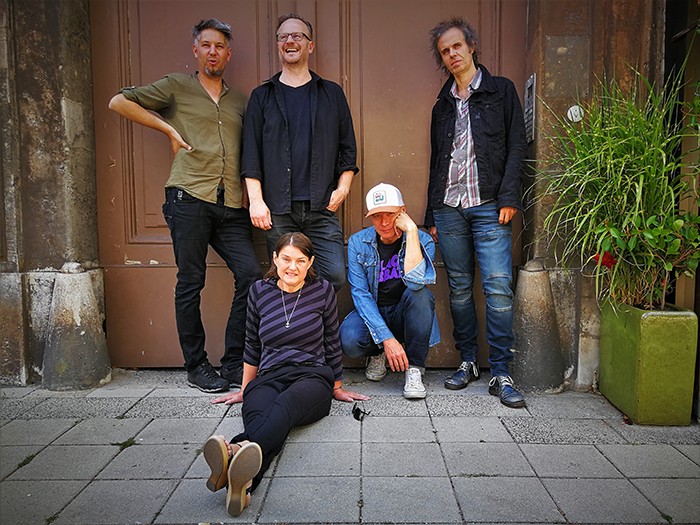 Gerhard Potuznik, som ligger bakom The Happy Sun, är en nyckelfigur när det handlar om elektronisk och alternativ musik i Österrike.
Han har släppt åtta soloalbum, ett antal med tolvor och andra cd-plattor plus att Potuznik har producerat plattor åt alla möjliga band.
När han inte har gjort elektronisk musik med GD Luxxe eller varit i gång med andra projekt så har Potuznik grävt lite i sina musikaliska rötter. Han återupptäckte musik som han hade gjort med två kassettbandspelare, någon billig elgitarr och någon ännu billigare trummaskin. Det han hörde där var någon blandning av The Cure, Wire, Hüsker Dü, Joy Divison och Sisters Of Mercy. Det hade dock ingenting gemensamt med GD Luxxe så det var då The Happy Sun fick se dagens ljus.
Debutplattan innehåller tolv låtar:
Alien girl
All your colours fade into me
On a rail
Summerrain
The smiling enemy
Rabbit gang
Stars without fame
Born to realize
Red
Evil heart
Harmonize
The house on Highland avenue
Det här är några ruskigt sköna låtar som verkligen kastar en tillbaka i tiden. Det känns verkligen som om The Happy Sun hyllar The Cure, Hüsker Dü, Joy Divison och Sisters Of Mercy med det här.
Det är lite mörkt, det är lite stökigt, det är lite elektroniskt, men framför allt så är det faktiskt lättlyssnat. Det känns nästan som om The Happy Sun är kvar på 1980-talet – och det ska man bara se som något positivt!
För The Happy Sun är det dock knappast någon retromusik. De öppnar snarare en ny dörr där man ser till att ge nytt liv i postpunk, powerpop, alternativ rock och indierock. Det gör de också – och de gör det på ett sådant sätt att man liksom bara vill höra The Happy Sun mer och mer och mer!
Topp tre? Alien girl, The smiling enemy och Evil heart.
Albumet släpptes den 27 september.