Pixies är tillbaka med en ny platta.
Vi får Beneath the eyrie – och då visar det alternativa rockbandet att de inte har tappat ett smack sedan starten under 1980-talet.
4/5
Artist:
PIXIES
Album:
BENEATH THE EYRIE
År:
2019
Genre:
ROCK, ALTERNATIVE
Skivbolag:
INECTIOUS, BMG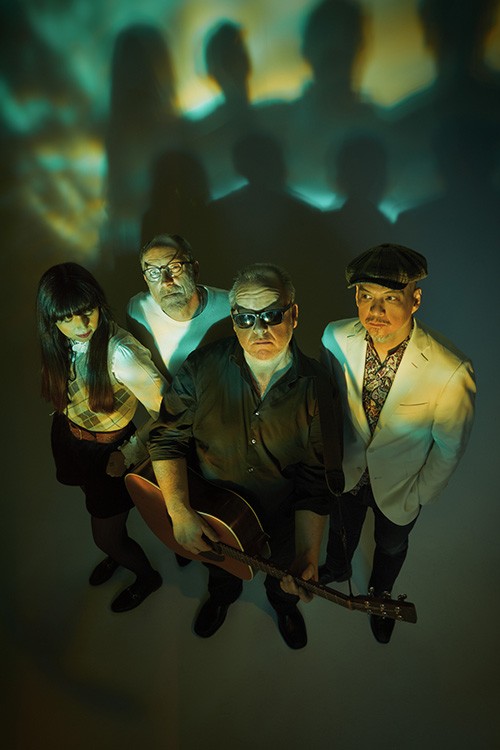 Pixies bildades 1986 i Boston, Massachusetts, och tillhör pionjärerna inom den alternativa rockrörelsen under slutet av 1980-talet. Det var Pixies som banade väg för band som Nirvana, Radiohead, The Smashing Pumpkins och Pearl Jam.
Surfer Rosa (1988)
Doolittle (1989)
Bossanova (1990)
Trompe le Monde (1991)
Indie Cindy (2014)
Head carrier (2016)
Beneath the Eyrie (2019)
Pixies lades dock ned och under tio år var det tyst med ny musik från bandet.
2004 var de dock tillbaka, men det var först tio år senare som det kom en ny platta och Beneath the Eyrie blir den tredje sedan återföreningen.
In the arms of Mrs. Mark of Cain
On graveyard hill
Catfish Kate
This is my fate
Ready for love
Silver bullet
Long rider
Los surfers muertos
St. Nazaire
Bird of prey
Daniel Boone
Death horizon
Korda Marshall, UK SVP Music, BMG:
There are not many bands that can justifiably claim to have changed the sound of music. The Pixies are one, and they continue to push the boundaries with their brilliant new album. We are honored and proud to have signed them to Infectious/BMG and really look forward to working with them in the future.
Albumet inleds med In the arms of Mrs. Mark of Cain. Det är mörk och småstökig alternativ rock där det finns plats för både garagerock och punk. Ja, det är ett Pixies som man känner igen.
Det är dock med andraspåret On graveyard hill som plattan fullständigt exploderar. Det här är Pixies i absolut högform. Det är så här bra de låter när de är som bäst. Det är småstökigt, men samtidigt bjudes det på ett sjuhelsikes gung, gitarrsoundet och när refrängen kickar i gång … wow! Den här häxlåten är bland det bästa som Pixies har gjort – och då är allt de har gjort inräknat.
Det finns fler kanonlåtar här, men en grej med Pixies är att de kan vara ojämna. Det kan man i och för sig förstå när det känns som om de nästan kan hitta på vad som helst som de pionjärer de är. Det är liksom helt okej om det inte blir rätt varje gång.
Beneath the eyrie är dock undantaget. Här finns liksom ingen dålig låt. Trots att de vrider och vänder så blir det bra. Det är snabbare låtar, det är lugnare, det är Quentin Tarantino-filmlåtar, det är mörkare och det är lite grådaskigt, det är stökigt och mindre stökigt, men varje gång fungerar det.
Topp tre? On graveyard hill, Catfish Cate och Death horizon.
Pixies är också ut på en turné och datumen ser ut så här:
13 september: Motorpoint Arena, Cardiff, UK
14 september: Pavilions, Plymouth, UK
16 september: O2 Academy, Birmingham, UK
17 september: O2 Academy, Leeds, UK
18 september: O2 Apollo, Manchester, UK
20 september: Alexandra Palace, London, UK
21 september: O2 Academy, Newcastle, UK
22 september: O2 Academy, Glasgow, UK
23 september: Usher Hall, Edinburgh, UK
25 september: Ulster Hall, Belfast, UK
26 september: Olympia Theatre, Dublin, Ireland
29 september: Sentrum Scene, Oslo, Norway
30 september: Cirkus, Stockholm, Sweden
1 oktober: KB Hallen, Denmark, Copenhagen
3 oktober: TivoliVredenburg, Utrecht, The Netherlands
4 oktober: 013 Poppodium, Tilburg, The Netherlands
5 oktober: Columbiahalle, Berlin, Germany
7 oktober: Palladium, Cologne, Germany
8 oktober: Lucerna Music Hall, Prague, Czech Republic
9 oktober: Gasometer, Vienna, Austria
11 oktober: Estragon, Bologna, Italy
12 oktober: Todays at OGR, Turin, Italy
13 oktober: X-Tra, Zurich, Switzerland
15 oktober: Tonhalle, Munich, Germany
16 oktober: Forest National, Brussels, Belgium
17 oktober: Luxexpo, Luxembourg City, Luxembourg
19 oktober: L'Olympia, Paris, France
20 oktober: Le Radiant, Lyon, France
21 oktober: Le Liberte, Rennes, France
23 oktober: Sant Jordi Club, Barcelona, Spain
24 oktober: Riviera, Madrid, Spain
25 oktober: Campo Pequeno, Lisbon, Portugal
26 oktober: Coliseum, Galicia, Spain
Beneath the eyrie släpptes den 13 september.
Pixies
Black Francis (sång, gitarr)
Joey Santiago (gitarr)
David Lovering (trummor)
Paz Lenchantin (bas)