Dead Express förra platta, The noble art of self destruction, är en riktig höjdare.
Nu är Nyköpingsbandet tillbaka – och då ser de till att höja ribban lite till …
4/5
Artist:
DEAD EXPRESS
Album:
BRAIN DAMAGE
År:
2019
Genre:
ROCK
Skivbolag:
DEAD EXPRESS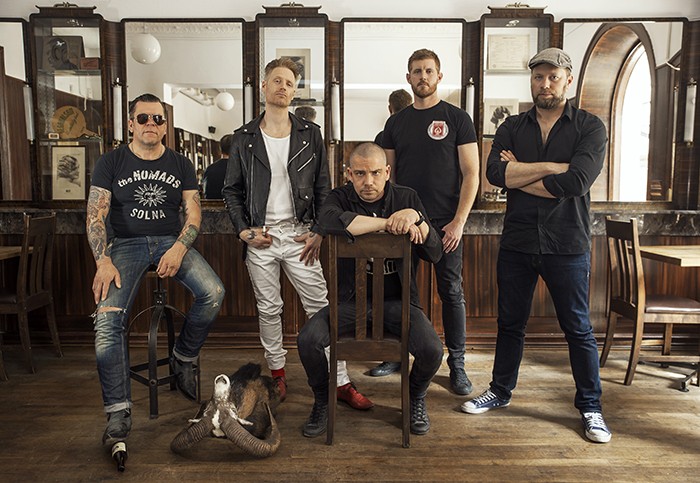 Man kan väl säga att Dead Express smider med järnet är varmt. Efter att ha släppt två EP:s kom fullängdsdebuten Bloodsucking queen 2017. Nästa platta, The noble art of self destruction, kom 2018 och nu är det alltså dags för platta nummer tre: Brain damage. Tre plattor på tre år. Har det gått för fort? Det är den första frågan som alltid dyker upp när ett band släpper material så tätt. Fast när det gäller Dead Express är det en helt onödig fråga. De levererar i vanlig ordning.
Oh yeah! Oh no!
Brain damage
Sweat
Rattelsnake shake
Dynamite
Dead of night
Bastard son
Time to live
Snowblind
Attitude
Det här är tio högoktaniga låtar. Det är låtsar som är dränkta i gitarrer och det finns en del punk i det här också – precis som det gjorde på den förra plattan. Den var de dock inte 100 procent nöjda med. Nu har de tagit ett kliv till. De har snappat upp lite allt möjligt på vägen och då har de även höjt ribban inför det här släppet.
I pressutskicket inför albumsläppet beskrivs Dead Express musik som något som ligger i gränslandet mellan Detroit-rock, The Hellacopters och Gluecifer.
Det går knappast att protestera där. Det här låter helt klart en del The Hellacopters och då kan ni räkna med att det är en jäkla massa gitarrer, röj och actionrock.
Om man ska jämföra Brain damage med The nobel art of self destrucktion, som Rockfarbrors Lennart Nygren gav 5/5 i betyg, så låter den nya plattan bättre. I alla fall så gör den det för mig.
Framför allt så känns soundet lite mer genomarbetat. Soundet känns mer moget och punkstänket har minskat en del. Hela Dead Express känns lite vassare helt enkelt. Det blir mer rock 'n' roll-röj helt enkelt.
Topp tre? Rattlesnake shake, Dead of night och Time to live.
Brain damage släpptes den 27 september.