Medlemmarna i SHOUT är mer högljudda och mer partysugna är någonsin tidigare.
Då skickar de också ut en ruskigt bra metal-/hårdrocksplatta.
Vi får tio kanonlåtar och albumet People of the night.
Sprungna ur The Scams kommer hyllade SHOUT.
Kriss Biggs och Danny Diemond har spelat i The Scams och de har turnerat runtom i Europa under tio år. De har också haft jäkligt kul under den här tiden även om det kan ha slutat med att de har vaknat upp i en städskrubb eller på en polisstation … Lägg till Rob Raw och Ol' Hurricane och du har Växjöbandet SHOUT.
De fyra bandmedlemmarna har sett till att hålla rock 'n' roll-fanan högt ända sedan de fick sin första smak av musikstilen.
Scream shout
People of the night
Alive
Shoot first
Young and wild
We are champions
Rock her bones
Racing with the devil
Hell awaits
Live free
Man behöver inte mer än en enda lyssning av People of the night för att man ska inse att det här är ett gäng som fortfarande har roligt – och det är inte så jäkla dumt om man vill att det ska bli bra …
Och det blir det här!
SHOUT bjuder på rena rock 'n' roll-explosionen!
Det här är heavy metal/hårdrock som definitivt också är melodisk. Man får feta gitarrriff, ett skinnsmiskande som gör att benen börjar skaka och en fet basgång. Lägg sedan till ett jäkla ös och en bra sångare så har ni SHOUT.
Man får vibbar från alla möjliga håll och kanter. Man kan höra lite AC/DC, KISS och lite Iron Maiden i det här. Det är lite old school-heavy metal, men SHOUT gör sin grej och de gör det skitbra!
Då finns det bara en sak att göra: Maxa volymen på förstärkaren, låt högtalarna jobba som aldrig förr och bjud in till fest! SHOUT står för musiken och då kan det bara bli succé!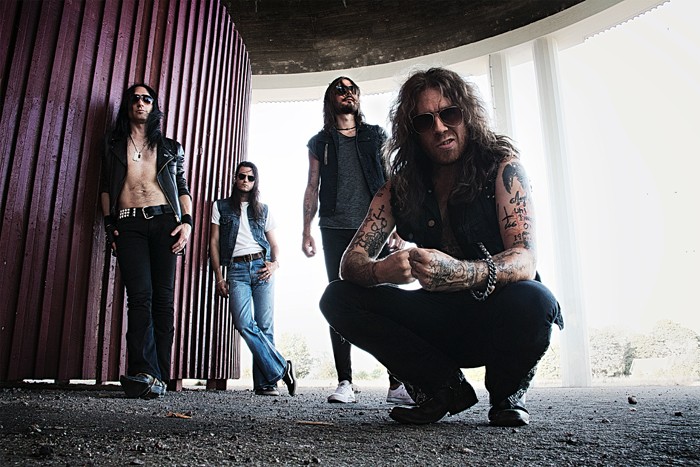 Topp tre? Jomentjena! Det finns inte en chans att man kan välja ut tre låtar från denna plattan. Allt är bra. Varenda jäkla låt måste man plåga sina grannar tvärs över gatan med!
Dessutom: Växjö Lakers är inte längre det bästa som Växjö har att komma med. Det är SHOUT.
People of the night släpps den 30 november.