Förra året fick vi en lysande singel i Small town romance från The Audrey.
Nu är de tillbaka.
Vi får Body language – och det är återigen en fantastiskt bra poprocklåt.
Vi firar lite extra denna dag. Det är ju premiär på Rockfarbror. Det är premiär för The Audreys nya låt Body language!
Egentligen var det tänkt att The Audrey skulle ha släppt låten för en vecka sedan, men tekniskt strul satte stopp för det. Fast den som väntar på något gott …
Med tanke på singeln Samall town romance, som var något alldeles extra, var förväntningarna på The Audrey stora inför detta singelsläpp. Hur skulle de kunna toppa en sådan låt liksom?
Men The Audrey gör verkligen ett försök och då har bandet dessutom växt till tre medlemmar: Johan P-son, Henrik Lundholm och William Stridh. Det är Stridh som har tillkommit och han har bland annat haft framgångar i Idol.
I och med att man har tagit in William i bandet har man fått ett större sångregister att jobba med. William är fenomenal på låga partier samtidigt som hans raspiga ton väver fint ihop sig med Henriks rena och höga stämma.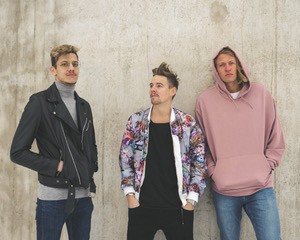 Man känner givetvis fortfarande igen The Audrey. Body language är en ganska soft gitarrbaserad låt som hamnar i facket poprock eller alternativ rock. Det är också melodiöst med sköna melodier och en refräng som man gärna sjunger med i. Det är också en låt som växer och växer, den tar lite mer och mer fart innan vi får en urskön refräng. Sedan avslutas låten och man sitter där med känslan att man vill ha mer!
Låten handlar om hur en person kan uttrycka och förmedla en känsla utan att använda ord utan genom sina handlingar.
The Audrey har nu släppt tre singlar:
Running red lights
Small town romance
Body language