Jason Isbell And The 400 Unit är på gång med en ny platta.
Nu kommer en aptitretare från den.
Vi får Be afraid – och det låter precis så bra som det alltid gör när Isbell släpper något nytt.
5/5
Artist:
JASON ISBELL AND THE 400 UNIT
Album:
BE AFRAID (SINGEL)
År:
2020
Genre:
ROCK, AMERICANA
skivbolag:
SOUTHEASTERN RECORDS, THIRTY TIGERS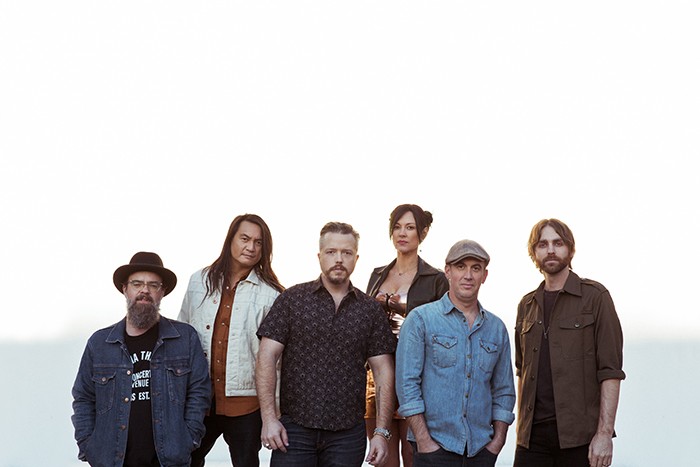 En gång i tiden var Jason Isbell medlem i Drive-By Truckers, men det är så länge sedan nu att det knappt är knappt värt att nämna.
I stället har Isbell gjort plattor på egen hand och tillsammans med sitt band The 400 Unit.
Isbells diskografi ser ut så här:
Sirens of the ditch (2007)
Jason Isbell And The 400 Unit (2009)
Here we rest (2011)
Southeastern (2013)
Something more than free (2015)
The Nashville sound (2017)
Jason Isbell And The 400 Units platta från 2017 är ruskigt bra och om man gillar americana/alternatic country så finns det ingenting att fundera på – då måste man låta Jason Isbell ta över stärkare, högtalare och vardagsrum med en gång!
Jason Isbell And The 400 Unit är ett sådant där gäng som man inte kan sluta lyssna på. Dessutom blir det bättre ju mer man lyssnar och något tecken på att man skulle bli mätt på detta finns inte. Snarare är det tvärtom och man har fått vänta alldeles för länge på något nytt, men nu är det alltså dags.
De ger oss singeln Be afraid. Denna gång blir det mer rock – fast med en del country – än americana och det låter makalöst bra som vanligt. Be afraid är en politiskt laddad låt. Isbell tänker inte vara tyst och bara titta på vad som händer i världen.
We don't take requests
We won't shut up and sing
Tell the truth enough you'll find it rhymes with everything
Den nya plattan heter Reunions och släpps den 15 maj. Så här ser låtlistan ut:
What've I done to help?
Dreamsicle
Only children
Overseas
Running with our eyes closed
River
Be afraid
St. Peter's autograph
It gets easier
Letting you go
Isbell kommer även att dra ut på en Europaturné och här är datumen:
6 november: Spektrum, Oslo.
7 november: Waterfron, Stockholm.
8 november: Vega, Köpenhamn.
10 november: Festsaal Kreuzberg, Berlin.
11 november: Paradiso, Amsterdam.
14 november: De Roma, Antwerpen.
15 november: Gloria, Köln.
17 november: Eventim Apollo, London.
18 november: Albert Hall, Manchester.
19 november: Olympia, Dublin.