Intruder Yellow, Intruder Green, Intruder Red och Intruder Blue är tillbaka med en ny platta.
Vi Masked Intruders tredje fullängdare som helt enkelt heter III.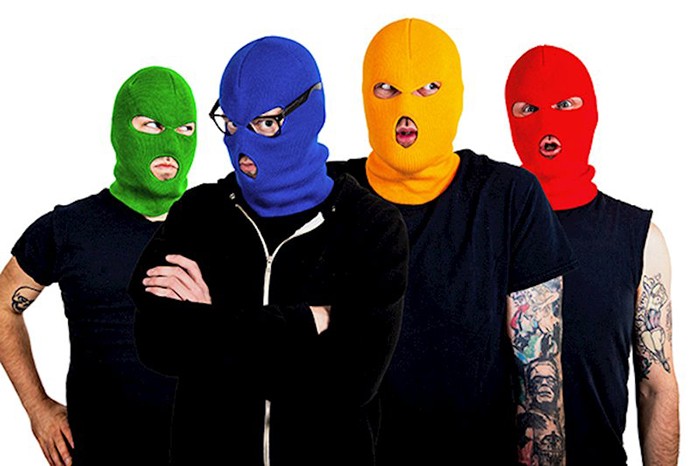 Masked Intruder, som kommer från Madison, Wisconsin, är poppunkbandet som påstår att de träffades när de satt i fängelse.
Det här gänget bär också alltid skidmaskar när de uppträder.
Jag vet inte om det är kul eller bara en dålig idé … fast det spelar ingen roll. Det här bandet vet hur man sätter ihop en bra poppunklåt. De gör det flera gånger på raken på plattan III.
No case
Mine all mine
All of my love
Just so you know
I'm free (at last)
Please come back
B & E
Maybe even
Not fair
Stay with me tonight
Dream a little dream
I'll be back again someday
Bad reputation
If you would hold my hand
Marry me
Det här är en platta där det är lika mycket powerpop som gladpunk. Det är väldigt lättlyssnat och låtarna sätter sig direkt. Det är nästan så att det bli väl trallvänligt på sina ställen, men Masked Intruder lyckas balansera det på rätt sätt och då blir också låt efter låt väldigt bra.
Stundtals väljer de dessutom att göra det mer rockigt. De gör det med den suveränt sköna Please come back och med ett av plattans bästa spår Stay with me tonight.
Ska man jämföra Masked Intruder med något annat band så är det väl Weezer som man tänker på i första hand. Fast när Weezer har lyckats göra mindre bra plattor alldeles för många gånger så gör Masked Intruder det väldigt bra.
Vill du höra en glad poppunkplatta så är det de här maskerade herrarnas senaste du ska dra i gång.