Det har gått fem år sedan Sixx: A.M. släppte något nytt.
Men nu samlar de ihop sina största låtar och ger oss Hits.
4/5
Artist:
SIXX: A.M.
Albumtitel:
HITS
År:
2021
Genre:
HÅRDROCK
Skivbolag:
BETTER NOISE MUSIC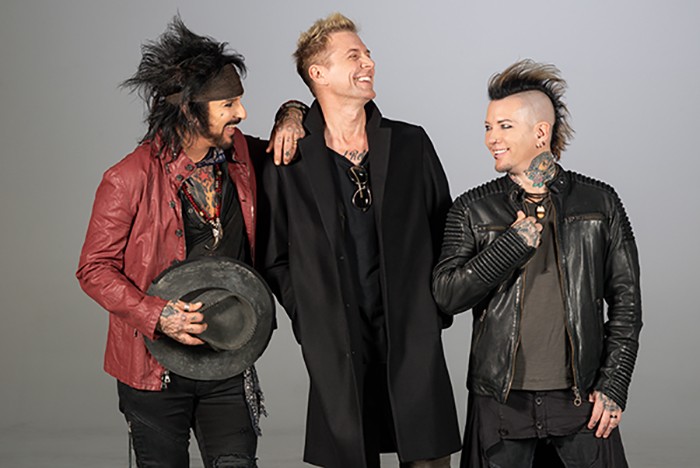 Det amerikanska hårdrocksbandet Sixx: A.M. kommer från Los Angeles, Kalifornien och det bildades 2007 av Mötley Crües Nikki Sixx samt DJ Ashba och James Michael.
Det har blivit fem studioalbum så här långt:
The heroin diaries soundtrack (2007)
This is gonna hurt (2011)
Modern vintage (2014)
Prayers for the damned (2016)
Prayers for the blessed (2016)
När de nu skickar ut Hits blir det 20 låtar. Då blir det en ny låt i The first 21 samt ytterligare två tidigare osläppta låtar i Penetrate och Waiting all my life. Det blir även nya mixar av Talk to me, Skin och Life is beautiful.
Life is beautiful
This is gonna hurt
Lies of the beautiful people
Pray for me
Rise
Stars
Maybe it's time
Skin
Belly of the beast
Are you with me now
Girl with golden eyes
Accidents can happen
Gotta get it right
We will not go quietly
The first 21
Talk to me (Radio mix)
Penetrate
Waiting all my life
Skin (Rock mix)
Life is beautiful (Piano vocal)
Alltså, Sixx: A.M. har varit ett riktigt vasst band ända sedan starten ändå känns de inte så stora som de faktiskt borde vara. Fast deras största hit Life is beautiful har över 40 miljoner spelningar på Spotify och det är väl inte så jäkla illa – och det är också den som får kicka i gång Hits. Det är ett klokt val för man hamnar på tå direkt när man hör den här feta hårdrockslåten …
Sixx: A.M. har verkligen hittat sina guldkorn på det här albumet – så har du missat dem så är detta alldeles utmärkt att lära känna dem.
Här finns This is gonna hurt, Lies of the beautiful people, Rise och Stars. Det är liksom säkra kort när Sixx: A.M. ger oss ganska tung, men ändå melodisk hårdrock. Sedan är det ju alltid kul att väcka en gammal favorit som Pray for me, som har någon gothic-känsla, till liv – precis som det är med de lugnare låtarna Maybe it's time och Skin.
Men hur är det med de tidigare osläppta låtarna? The first 21 är helt klart en bra låt och man får en del Queen-känsla över den. Det blir minst sagt en överraskning. Penetrate är mer klassiskt Sixx: A.M.-material och det låter himla bra – precis som Waiting all my life som låter lite mörkare.
Det är ett skönt sound som Sixx: A.M. ger oss och som helhet så är det – givetvis – en stark samlingsplatta från amerikanerna som rundar av allting med deras två bästa låtar: Skin och Life is beautiful i nya versioner. Det är kul att höra dem så här – en rock mix och en piano vocal mix – fast originalversionerna är något alldeles extra …
Topp fem? Skin, Life is beautiful, Maybe it's time, Lies of the beautiful people och Stars.